"Robyn guided me on a meaningful journey. She helped me get in touch with my blockages and gain insights I did not expect. Typically I struggle with reading my intuition, but with Robyn's guidance I was able to tap into my intuition to learn valuable things about my inner self." – Lisa P.

"The session was great even though I was skeptical. It pulled up and connected some experiences for me that helped me clarify things in my present life. I would definitely do more sessions to explore this further." – Jennifer

A Soul Progression Clearing can help you clear blockages and attachments and claim an empowered life at home and at work! Check out this free webinar.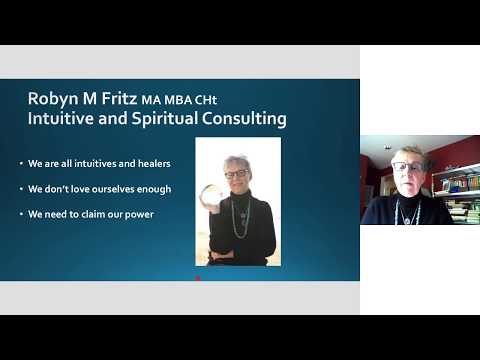 What Soul Progression Clearing Can Mean for You
Consider soul progression clearing if you:
Want to kickstart your creativity
Want to boost your personal life and professional lives
Want a deeper understanding of your role in the universe
Feel stuck, at home or at work
Are drained by family, friends, and other relationships
Can't stand up for yourself
Feel something is in you that shouldn't be and that you don't want: yes, this can be entities but it can also be thoughtforms (ideas that become real because we collectively believe them, like "heaven," "hell," "good," and "bad")
Want to get vibrationally, or energetically, clear and claim your power in your personal and professional lives
Want energy healing that offers real results, now (see Reiki and Alchemical Energy)
How Soul Progression Clearing Can Help You Thrive
Soul Progression Clearing can help people clear issues that are keeping them from being their best, at home and at work.
It can help clear issues that may be so deep-seated they go into previous lives. It can also clear attachments, from entities to thoughtforms. (These issues may also affect spaces, requiring complex clearings for homes and business, from open portals to possession.)
I partner in this work with my crystal, Fallon, the Citrine Lemurian Quartz, an ancient power crystal who can transcend time and dimensional boundaries and thus call in extraordinary support across time and space. Combined with our previous lives together and my intuitive insight, specialized training, and difficult life experience we can help people who are looking for support in their lives, from business to personal issues.
I do not generally incorporate hypnotherapy in this process. However, this work does include energy healing. While I am a certified Level 3 Reiki practitioner, I use alchemical energy healing in my work.
I have also studied with Betsy Bergstrom in Seattle, who is known worldwide for her shamanic work called Curse Unraveling and Compassionate De-possession. I have incorporated and adapted her profound techniques because they are an extraordinary fit for us, another tool in our toolbox to support you in your journey.
Here is how I describe these processes:
Curse Unraveling. The shamanic perspective is that someone, maybe even you, somehow cursed you (or your family line) in this life or another, and that curse has repercussions now. My perspective is that something happened (because something always happens in a life), we might be able to say something like "You were a Viking left behind in medieval times because you were considered weak, and now you're over-compensating, so let's just change the mindset and help you heal yourself." In hypnotherapy, your subconscious mind knows the truth, and will reveal it if you're ready to hear it. In a soul progression clearing I will dig deeper into it intuitively. The point is to get at the energy threads that keep you from being the best you can be—and eliminate them.
Compassionate De-Possession. When I noticed problems in complex space clearings and eliminated them by burning up the responsible entities (which some people call ghosts, or demons, or bad guys, or something else highly inappropriate, offensive, and unnecessary), I felt bad about it. No use killing something when maybe you can help it find love, right? So the shamanic perspective here is that we are all sovereign, or independent, beings, and no one and nothing should interfere with that. If it does, then you respectfully but firmly remove it. My perspective is that I don't have to kill something, I can simply call on its spirit guides, Fallon, and divine and other beings I work with to decisively remove it and send it on to its next soul experience. In hypnotherapy, your subconscious mind will help reveal what the block is, and remove it if possible, and if you're ready. In a soul progression clearing I will dig deeper into it intuitively.
Energy Healing. We use Reiki and alchemical energy, a new energy that came into the world in 2007, which takes you beyond any other system out there. It supports you where you are, from a newbie at energy work to someone ready for multi-dimensional exploration.
Intuitive Insight. I offer insight into your issues, from blockages to better connections with your spirit guides and healing team. You do, too. This deepens your experience.
In soul progression clearing I will "journey" or intuitively explore a client's issues in cooperation with the client's spiritual guides or spiritual team, and then explain it to the client. While clients also participate, and often have an idea of what is blocking them and even where that blockage "is" is their body, this is a process that is more passive for the client than soul regression hypnotherapy. It works. It works fast.
Ready to explore a session? Please contact me for a free 15-minute conversation on how we can work together.
© 2015 – 2018 Robyn M Fritz