On Intuitive and Spiritual Consulting
Conversations with Passion, by Corey Poirier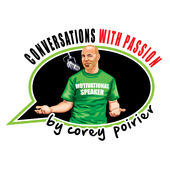 Hosted by Corey Poirier, this BlogTalk Radio show, The Conversations With PASSION! show and www.thepassioncure.com feature insights from the some of the world's most renowned and sought after thought leaders. From the site: "The goal is to help Entrepreneurs, Business Leaders, Small Business Owners, essentially you, wherever you are, improve your life and/or business, to help you find or grow your passion, to help you execute at the highest level in your business and life, to provide you with exclusive insight, and to provide you with actionable strategies, while helping you become a Super-Achiever. Whether you're listening in your car, at your laptop, on your TV or while at the gym, Conversations With PASSION! and Corey Poirier deliver twice each week. Guests range from Jack Canfield (Chicken Soup) to Chris Brogan to John Lee Dumas and John Gray (Men are from Mars)."
Corey Poirier is an award-winning speaker, the Host of the Conversations With PASSION Radio Show, a best-selling author, the Founder of a media company and an interviewer who has personally interviewed over 2,200 of the world's high achievers. 
I have a series of interviews with Corey. Here are our conversations on what energy is, and how to understand and work with it to improve your personal and business lives.
All Business Media FM
An interview (10-10-2017) on my work as an intuitive and spiritual consultant.
Radio Show on Intuition
November 2, 2015
Lisa Lamont's Prancing Kittens Network
Healthy Boundaries, Healthy Business.
Many thanks to Lisa Lamont at Prancing Kittens on Blog Talk Radio. We discussed what energy boundaries are (we all have them, but don't know how to work with them), and how they affect our personal and business lives. If you have trouble saying "No" to unreasonable demands, feel drained at work, or otherwise feel crimped on claiming your power, tune in!
News for the Soul
For two years, June 2014–June 2016 I hosted a radio show, Bridging the Paradigms, at this wonderful Blog Talk network. Much thanks to the delightful Nicole Whitney!
Radio Show on Animals, the Afterlife, and Reincarnation
Promoting my e-book, Finding Oliver: How and Why Our Animals Reincarnate with Us
Go Within or Go Without Radio
Daniel Gutierrez, Blog Talk Radio
March 19, 2017
Do animals have afterlives? Absolutely. Do they reincarnate? Yes, no, and maybe. Like all beings, human and otherwise, animals have souls, which means they have afterlives. Soul purpose determines what we all do next.
WINNER: 2010 MERIAL HUMAN-ANIMAL BOND AWARD from the Dog Writers Association of America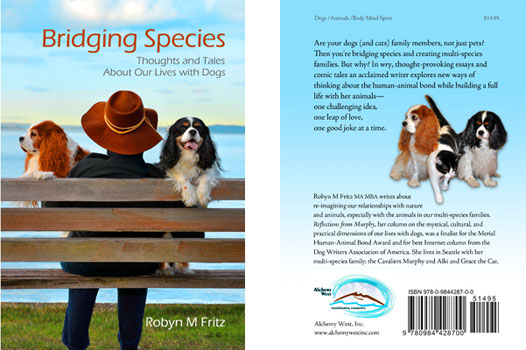 Bridging Species: Thoughts and Tales About our Lives with Dogs is a collection of thought-provoking essays and comic stories about how I created a multi-species family, from mystical, cultural thoughts to the bumbling practical difficulties and fun times. It chronicles my journey from a woman with a pet to a woman with a multi-species family—two dogs and cat—and the ideas we can all explore together as we figure out how to live authentic, full, fun lives with animals. It is a gift book for animal lovers, mystical and cultural thinkers—anyone who enjoys provocative thinking and fun stories about animals.
Bridging Species was created to bring people together in small groups to start conversations about new ways of thinking about the human-animal bond. What are the mystical, cultural, practical, and even comic ramifications of treating our animal companions as family members, as equals? Why would we want to do this? What could it mean for our communities and for an increasingly conflicted world that desperately needs new ways of getting along? How can these ideas of equality and responsibility between species connect us in harmony with all life, regardless of form? Does choosing to live with animals as family members make our lives with them better, more fun, or just too complicated?
In my intuitive communication practice I regularly speak with other beings, from homes and businesses to volcanoes and weather systems. It is my experience that all life, whatever its physical form, has a soul, a separate and distinct personality, consciousness, equality, rights, responsibility, and free choice to do its work. While this is a difficult concept for most people, many are willing to accept animals as equal beings, which is why they regard them as family members. Exploring these concepts in terms of our animal families can lead to creative, healthy change in our view of all life and in our role as humans in a diverse world.
With Bridging Species I am opening a fun, creative dialogue about how we explore our relationships with other beings, beginning with those who are most familiar to us: the animals in our own multi-species families.
This book is a prelude to a larger book, Murphy's Tales, about how my dog's good-humored zest for life despite chronic illness inspired our family's journey to wellness and sparked my intuitive abilities. I am also writing What Nature Tells Me, about learning to speak with homes, businesses, and nature, including wild/domestic land and weather systems, and what these beings have to say to us about joining together to equally contribute to the health and balance of our conscious, evolving planet.
Why It's Bridging Species: the Back Cover, and Then Some
Are your dogs (and cats) family members, not just pets? Then you're bridging species and creating multi-species families. But why? How do we respect, yet transcend, species? What are the mystical, cultural, practical, and even comic implications for our busy lives, our communities, and our evolving planet? In these wry, thought-provoking essays and comic tales an acclaimed writer explores new ways of thinking about the human-animal bond while building a full life with her animals—one challenging idea, one leap of love, one good joke at a time.
Many of us daily wonder why we live with animals—and know we wouldn't live without them. But when we start thinking about animal consciousness, rights, responsibilities, and simply getting along, we're suddenly propelled into a whole new world. Who sleeps where, who eats what, and who goes on a walk or sits on a windowsill becomes a bit more complex when we consider our animal companions' feelings—and attitudes. What do compassion, love, behavior, and even what species we are have to do with living in harmony with all life? Can you have fun and a life with animals?
Thanks to these Radio Show Hosts for Talking about Our Love of Animals and My Book!
 Hear my guest spots on the archived shows!
Soul Searching Radio
An hour with host intuitive Kelly T. Smith as we look at life from our animal family's point of view. An hour of animal communication and a discussion of mindset on the needs, emotions, and care of our animal companions.
 Kelly T. Smith, Soul Searching Radio Blog Talk Radio Nov. 7, 2013  
Living The Human Animal Bond
Dog Talk Radio
Julie Forbes and Dog Talk Radio Wednesday, June 16
th
, 2010 – 3-4pm – Show #70
http://www.dogtalkshow.com/podcasts/
Julie Forbes is the best kind of dog trainer: warm, understanding, and loving, with the smarts to helps dogs and their people create happy, healthy lives. Many thanks to Julie for the wonderful hour discussing my book and how we create and live well and long with our multi-species families!
Fire Up Your Soul!
Linda Christiansen Fire Up Your Soul! Contact Talk Radio Wednesday, June 23, 2010, 8-9 p.m.
http://www.contacttalkradio.com/hosts/lindachristensen.html
Linda Christiansen is wonderful! A sharp radio host who is warm, intuitive, and appreciative of the larger world out there in which our souls and our creative spirits thrive. Many thanks for the great support and her awesome love of life and all beings in it, especially our beloved animal companions!
The Dr Pat Show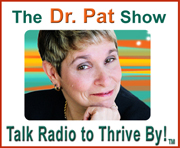 Dr Pat Baccili Tuesday, July 13, 10-11 a.m. KKNW 1150 AM (
www.thedrpatshow.com
)
Listen to the archived copy now!
Dr. Pat is sharp, savvy, and supportive! I was a newbie guest and she was the most generous host! We talked dogs, and animals, and how we create animals with families. She was intrigued that I came by my intuitive skills from an analytical, skeptical background, that it took my dog, saving us both from an earthquake several minutes before it happened that made me think that there was more to the world than the human perspective. Dr. Pat supports a diverse community of people reaching out to each other and the world to create a vibrant, dynamic, pay-it-forward mindset. Listen to her! She's real. And thanks, Dr. Pat, for the opportunity to share my love of all life with your audience.
The Tim Link Show
with Animal Communicators Tim Link and Colleen Gordon Sunday, August 8, 2010, 1-2 p.m. EST All Paws Pet Talk Radio
www.allpawspettalk.com
at WLBE 790 AM  

Tim Link and Colleen Gordon are not just fabulous animal communicators, they are great interviewers and wonderful radio hosts, keeping their lively show moving fast, and revealing all the wonders of our lives with animals. Thanks to both of them for a fun time exploring my book and how we build healthy, thriving families.
The Catherine Bradford Show

Catherine Bradford Thursday, August 12, 2010, 3-4 p.m. Hear it now!  
http://catherinebradfordshow.com
Catherine Bradford is an amazing radio host and a stunning interviewer! She was warm, smart, informed, and welcoming!  I was thrilled that she referred to my writing as 'heart-based.' When we love our animal families, it comes through! Thanks to Catherine for a wonderful interview. She reminded me that when we work at what we love we find the people who appreciate us–and we appreciate them in return! Here's to a vibrant community with Catherine a leader and inspiration to us all!
 Conscious Talk Radio
Brenda Michaels and Rob Spears Thursday, September 9, 2010, 7-7:30 a.m. (
www.conscioustalk.net
) KKNW 1150 AM  
Listen to the Archived Show now!
Brenda Michaels and Rob Spears know what a warm, supportive, smart community is all about! And they love animals and their connection to us all. Thanks to Brenda and Michael for a wonderful interview. They raised difficult subjects like using animals for food and considering their feelings: exactly the kinds of things we need to be addressing in our world. How do we respect all life and live equally, responsibly, and with insight and humor?
 The Donna Seebo Show
  With Donna Seebo, Mental Practitioner, Counselor, Teacher, Award-Winning Author, Minister and Radio/TV Personality Thursday, Nov. 11, 2010, 3-3:30 p.m.
The Donna Seebo Show – heard around the world, weekdays, 3-4 PST
Listen to the show here!
Donna Seebo is amazing! Smart, intuitive, savvy, and well prepared to talk in-depth with her radio guests. Donna knows what it is to love and be loved by all life, especially by our animal families. She read my book and made sure her audience knew what it was about and what they could find within it! Thank you, Donna!
© 2011 – 2018 Robyn M Fritz