Join me at OM Times where I proudly host my own radio show.
You can also find me at the OM Times Experts platform at the OM Times Institute, where I host regular webinars through Learn It Live. You can also find them, with links, at my Webinars page.
I host a weekly Facebook Live session (OM Times Institute, and shared across Facebook). You can find those videos and others on my YouTube channel and right here on my site at my Video Galleries page.
Find my radio show at these sites:

My OM Times Radio Show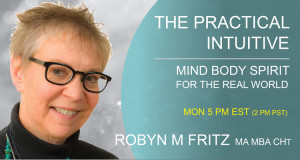 Mondays, 2 pm PST / 5 pm EST
Call in live: 202-570-7057 or email me with questions, comments, topics you'd like covered
"We are all intuitives and healers. We chose this life to grow our souls by becoming our best selves. Well … fine, you say, but let's get practical: what does that mean for our busy lives?
"We'll find out as we explore mind, body, and spirit for the real world with humor, warmth, mystical insight, and big doses of common sense. Because life isn't easy … but it's so worth it. And becoming our best selves—by learning to really love ourselves—is how we live it.
"Each week Robyn offers short intuitive readings and healings for callers; guided meditations; practical, thought-provoking, lively conversations; and occasional leading-edge guests—so you can help yourself love yourself, no if's, and's, but's, or BS—ever!
"Topics we'll explore include:
Personal and business intuition
Animal communication and the human-animal bond
Psychic mediumship, the afterlife, ghosts, the paranormal
Crystals, intuitive partners, rituals
Space clearing at home, at work, and in nature
Past life and between life regression, spiritual awakening, soul retrievals/journeys
Shamanic and energy healing modalities
Mindset, science, mysticism—and magic
Earth changes, the multiverse, and the mysterious (but real)"
June 5, 2017. Debut of the Practical Intuitive. What we will talk about in the coming weeks.
June 12, 2017. What's Up with Spirit Guides?  What are spirit guides, spiritual teams, who and what support or hinders us in our daily lives. Plus sponsor Rosie Gremmert discusses her work as a certified essential oil therapist and certified holistic health coach.
June 19, 2017. How Do We Live with Animals as Family Members? What does it mean for our soul growth, and theirs? Plus sponsor Terri Kent of Amberstone Pets discusses raw Baltic amber collars, natural flea and tick repellents for dogs and cats.
June 26, 2017. How Can We Boost Our Physical, Emotional, and Spiritual Health? How can we boost our physical, emotional, and spiritual health to help tap our natural intuitive and healing abilities? Plus we'll welcome our sponsor Dr. Aubrey Wallace, ND, a naturopathic physician and medical intuitive.
July 3, 2017. What Does Citizenship Mean for Intuitives and Healers? It's the Fourth of July in a time of upheaval. What does it mean to be a citizen of a city, state, country, planet? What do our intuitive and healing abilities tell us about citizenship, freedom, being a grounded and authentic citizen? How do we become citizens of a healthy, conscious planet?
July 10, 2017. What Is Planetary Citizenship? A Conversation with Mount St. Helens. We are all citizens of the planet first, equals with all life in the service of an evolving, conscious planet. What are our responsibilities to the planet, to each other, and to ourselves? Find out what Washington state's most active volcano, Mount St. Helens, has to say.
July 17, 2017. Soul Progression Clearing: Intuitive Insights, Essential Oils, and Energy Healing. Soul Progression Clearing helps people clear deep-seated issues that may go into previous lives or involve current life attachments, from entities to thoughtforms. It uses intuitive insight, shamanic techniques, the assistance of spirit guides and divinities, and crystal energy healing. Learn how and why to seek a clearing and how unique essential oil formulas can help clients and healers. With show sponsor Rosie Gremmert, Certified Essential Oil Therapist, Certified Holistic Health Coach.
Monday, July 24, 2017. Our Animals and Our Spiritual Development – Plus Natural Flea and Tick Remedy. How does our spirituality affect the human-animal bond? Call in to chat about you and the human-animal bond, from brief intuitive and healing readings to questions and comments. What do spirit guides and soul clearings and daily life mean for our multi-species families? Plus we'll welcome our sponsor Terri Kent AmberstonePets.com for a Q&A on her natural raw Baltic amber flea and tick collars for dogs and cats.
July 31, 2017. Medical Intuition, Wellness, and Intuitive Development. How can we develop our intuition to support our well-being? Learn some tips and techniques that help. We will welcome our sponsor Aubrey Wallace ND, naturopath and medical intuitive, to dig deep into how medical intuition can support our mind, body, and spirit with specific paths to wellness that lead to enhanced well-being.
August 7, 2017. Wellness, Intuition, and Soul Growth. As souls we took bodies to promote soul growth. Learn some tips on supporting soul growth through intuitive development and alternative wellness practices. Plus Seattle chiropractor Winfield Hobbs DC PS FACO will discuss what chiropractic care involves, why you should consider it, and how it can benefit you.
August 14, 2017. Animal Communication and Our Animal Families. We can all learn to communicate with our animal families for fun conversations and wellness issues to family harmony. Call in to chat about or with your animal family members as we share stories of how people and animals grow their souls as families. We will also welcome show sponsor Terri Kent of AmberstonePets.com.
August 21, 2017. Why Past Life Regression Matters, and How Essential Oils Support Healing. Past life regression, done intuitively, shamanically, or through soul regression hypnotherapy, can support healing of fears, phobias, and traumas going back lifetimes and help tap skills and abilities from previous lives. Why it matters, cautions, stories, and how certain essential oils can support continued healing afterwards. With show sponsor Rosie Gremmert.
August 28, 2017. How Hurricanes Save the Planet. Hurricanes are massive cleansing forces created annually on a schedule to cleanse the land and sea they move over. They have spirit guides, or guidance forces, that support their work. Without hurricanes the planet would freeze (and they are coming in increasing force to keep the Gulf Stream moving. Plus a follow-up with Dr. Aubrey Wallace, ND, and medical intuitive: what happens after a medical intuition reading.
September 4, 2017: Free Mini Intuitive and Healing Readings PLUS Sacred Play. Call in each week for mini intuitive and healing readings or to ask a question or comment on how we tap our own intuitive and healing skills in our busy home and work lives. What's up in the world? What does it mean for us? How do we thrive in tune with our intuitive and healing skills? Explore mystical and intuitive insight with Robyn and the occasional guest with new and sometimes controversial takes on personal and business intuition, animal communication, psychic mediumship, crystals, space clearing, past life and between life regression, spiritual awakening, soul journeys/retrievals, earth changes, energy healing, the multiverse, and more. Plus the role of sacred play: how watching orca whales hunt salmon and listening to angels sing to Beethoven's music teaches us to let play help us grow.
September 11, 2017: Free Mini Intuitive and Healing Readings PLUS Sacred Work. Free intuitive and healing readings or to ask a question or comment on how we tap our own intuitive and healing skills in our busy home and work lives. Plus the role of sacred work in growing our souls and living our lives with purpose and power.
September 18, 2017: Free Mini Intuitive and Healing Readings PLUS Grief Support. Free mini-readings for callers or those who email questions. Plus how we deal with the grief of losing beloved people and animals.
September 25, 2017. What's Our Purpose? Exploring Ancient Atlantis and Lemuria. What's up with the world … and us? We're talking soul purpose, our many lives, and what the heck Atlantis and Lemuria have to do with it! Plus mini-readings.
October 2, 2017. Is reincarnation real? What do religions and cultures think about reincarnation? Why does it happen? What does it mean? Plus readings.
October 9, 2017. What's up with Crystals? We've been working with crystals for eons, so let's ditch the notion it's weird. What crystals will do for you, and the story of meeting Fallon, the Citrine Lemurian Quartz. Plus callers.
October 16, 2017. Clearing Ourselves and Our Spaces. Our spaces are alive like we are, and need to be energetically clear to be their best so we can be our best.
October 23, 2017. We Die, then What? What happens when we die, from my work as a medium partnering with my deceased dad, Ray.
October 31, 2017. Who Are the Stuck Dead, and Why Do They Matter? The stuck dead are those who have yet to make it to the afterlife. The reasons? It's mainly lack of self-love, which leads to doubt and feelings of unworthiness.
November 7, 2017. What is real? The multiverse and discernment. The multiverse is real: there are alternate earth dimensions. How do we discern what is true and what isn't?
November 13, 2017. Can intuition boost your business? Tips on discernment, how intuition is practical, and how it can boost your business. Plus mini-readings.
November 20, 2017. All about crystals. Crystals for grounding and protection, self-love, and more with crystal expert and new radio show host, Kim Villines of Earthlight Rocks & Gems in Kirkland, Washington, plus an etsy store!
November 27, 2107. What are psychics, intuitives, mediums, and clairvoyants. Plus more on crystals and callers. Includes Kim Villines of Earthlight Rocks & Gems.
December 4, 2017. Why Quantum Physics Is Wrong—and What's Right. I discuss why quantum physics is wrong—because it starts with the wrong question and assumption—and what really matters.
December 11, 2017. Be a Superstar. Find Your Intuitive Partners.  Why we need to reach out for our intuitive partners, whether crystals, Himalayan salt lamps, animals, whatever they are, to be our best and do our best work.
December 18, 2017. Claiming a New World for a New Year. Will we be way-followers or way-showers? Will we cling to outdated ideas or pave the way for a new, healthy world where all life is equal and participating in the life of a conscious, evolving planet.
December 25, 2017. Family Gatherings: Peace, Love, Let Be. Yes, we can we have it both ways: peaceful holiday family gatherings and time to re-invigorate ourselves. Plus our crystal expert, Kim Villines, of Earthlight Rocks & Gems.
January 1, 2018. Functional Medicine: What It Is, How It Helps. What is functional medicine? What can it do for you? Learn from the expert, Arti Chandra MD, as she joins us to talk about her medical specialty and why people today need to dig deep to improve their health.
January 8, 2018. Yes, Sensitives and Empaths Can Thrive! What sensitivity and empathy really mean, how you can live a healthy, balanced life and thrive, making empathy a strength!
January 15, 2018. Be a Love Warrior! Loving ourselves first is what should happen. Helping you get ready for Valentine's Day, we're looking at crystals that support love. With radio sponsor Kim Villines of Earthlight Rocks & Gems.
January 22, 2018. Animals our Families, Not Our Gurus. With Animal Communicator Tim Link. What's the difference between living with animals as families, not as our teachers, healers, or gurus. Tim Link is an animal communicator and pet expert.
January 29, 2018. Do Animals Have Souls? Do We? Who has a soul, and why? Theory, philosophy, and souls in action, it's all here. Plus true stories about what souls are up to!
February 5, 2018. Managing Our Energy with Atherton Drenth. How can we manage our energy to improve mind, body, and spirit? Join the discussion with Atherton Drenth, clairvoyant medical intuitive and the author of Intuitive Dance. Building, Protecting & Clearing Your Energy (Llewellyn Worldwide) and Following Body Wisdom (www.athertondrenth.com).
February 12, 2018. How Crystals Support Us Mind, Body, and Spirit. With Crystal Expert Kim Villines. Crystals aren't woo-woo: they're how nature supports us, mind, body, and spirit. We'll discuss how crystals do that, from sleeping well to physical health to finding our spiritual path. Special guest: crystal expert Kim Villines, of Earthlight Rocks & Gems.
February 19, 2018. Sensory Alchemy: How Our Bodies Support Self-Healing, with Jeannine Wiest. Could your body have better answers for self-healing than your mind? Jeannine Wiest CMT CST will share simple tips from her Sensory Alchemy self-healing practice to help us increase well-being, productivity, and creativity. Her book: The Alchemy of Self-Healing: a Revolutionary 30-day Plan to Change How You Relate to your Body and Health. Call in to chat or get a reading.
My Radio Sponsor
I am so proud, thrilled, and honored to have Kim and Todd Villines of Earthlight Rocks & Gems in Kirkland, Washington sponsor my show.
If you're shopping for yourself — or loved ones—check out the best rock shop around—Earthlight Rocks & Gems in Kirkland, WA. Whether you're looking for metaphysical support or just love nature's art, Earthlight has it all: raw rocks, crystals, tumbled stones of all kinds, carvings, cabs, fossils, tumblers, rare minerals in all prices ranges, and books. They also have jewelry, including custom pieces, and beads to make your own.
Open 7 days a week, the Earthlight store has been around since 1988, and is run by Kim and Todd Villines.
Find them online at earthlightgems.com, at etsy at earthlightgems.etsy.com, or on Facebook at Earthlight Rocks and Gems. Have a question? Email Kim at the store, earthlightgems.com. And just for OM Times listeners, receive 10% off orders over $50 at their etsy account with coupon code EARTHLIGHT GEMS.  
© 2017 – 2018 Robyn M Fritz