Whether it's during a one-on-one session, or in a workshop, I can always count on learning a great deal from Robyn. Sometimes it's about me, sometimes about the world around us, but it's the kind of learning that brings growth and connection. I first met Robyn when I was looking for someone to help me with a house clearing. "Space cooperation," she said. Wow, I never thought about it that way before. Since finding her, I have had personal Mindset Alchemy sessions, attended two of her workshops (Intuitive Communications and Using Your Intuition in Space Clearing), and invited her to my home for a Space Cooperating session. She was hugely helpful to me during a deeply transforming time in my life. I think what impresses me the most is that she approaches the task at hand with a broad range of tools and approaches. It's definitely not a one-size-fits all thing with her and Fallon. In fact, I have yet to bring up a topic or concern where she hasn't had two or three different tools to offer. I like that—it strips away all the dogma in favor of a pragmatic approach. She's warm, engaging, smart, funny, and caring. If you're looking for someone to say a prayer, or a chant, or something that is just traditionally done to you or for you, Robyn's the wrong choice. But if you're looking for something meaningful in which you engage yourself in learning and growing, she and Fallon are ready for you." — Pat in Seattle
Workshops / Talks: What I Can Tailor for You
My workshops and talks can help individuals and organizations become more productive, content, and prosperous. I can tailor them for a specific business, including corporate, technology, law enforcement, medical/wellness, veterinary, entrepreneurs, real estate, sales, virtual businesses, chambers of commerce, writers, entertainment events, and mind/body/spirit.
I emphasize intuition as a practical skill everyone can learn to use, whether it's connecting with an animal or the deceased, creating a more comfortable and prosperous home and business, or using intuition to gain critical personal and business insights.
This is a list of available talks and workshops. I can also tailor a program for your group, just ask! Talks can be from 20 minutes to an hour.Most workshops are 1-1/2 – 2 hours, and can be adapted as needed. Those that can and have carried CEUs for health care professionals can go one or two days.
My workshops and talks are motivational, inspirational, creative, practical events for personal and business development, mind/body/spirit for the real world. They work—and they're fun!
I would love to chat with you about setting up a workshop or talk for your group. Please contact me!
Intuitive Development
We are all intuitive. Learning to use our intuition helps us create healthy, well-rounded, prosperous lives.
Workshops That Can Carry CEUs for Health Care Professionals
Tapping and Using Your Intuition. Learn your unique intuitive ability and now to tap and use it in this hands-on workshop that combines teaching and practical, fun exercises. (30 minutes – 8 hours, or two days)
Developing and Maintaining Intuitive Energy Boundaries. If you're uncomfortable at work or in crowds, feel drained, or give too much of yourself away you need to learn these effective, reliable energy management techniques to create strong energy boundaries and keep yourself healthy and balanced. Deepens understanding of the energetic body and how it works. (20 minutes to 8 hours, or two days)
Intuitive Development
Being Intuitive in a Practical World. We're all busy—and not always taking advantage of our intuition to be our best self at home and at work. Includes discussion of how intuition works and focused, fun intuitive exercises, from daily life to animal communication, mediumship, and space clearing. You'll leave ready to use your intuitive skill to live a full, six-sensory life. (2-3 hours)
Using Intuition in Business. Learn how to boost your business using intuition and common sense to obtain and interpret information, from planning and decision-making to team-building and growth opportunities. Includes theory and exercises to demonstrate how intuition can be a reliable tool. (30 minutes – 4 hours)
Meet and Work with Your Primary Spirit Guide. Learn what your spiritual team is, how it works to support you, what to look out for, and how to manage your team. Includes meeting your primary guide responsible for guiding your personal journey. Includes guided meditation, discussion, and 15-minute follow-up within one week.
Mediumship
Mediumship. Learn to communicate with the deceased, from people to animals and other beings. Covers learning your strongest intuitive ability, staying balanced and clear, finding your guide, establishing boundaries, understanding signs and symbols, handling grief, and having straightforward, loving conversations with the dead, human or animal. Start to finish, the Level 1 basics of mediumship for those wanting to deepen their intuitive work or become mediums. No nonsense, practical, inspiring. (1-1/2 – 4 hours)
The Afterlife and Mediumship: Connecting to Deceased Loved Ones. Learn about the afterlife, mediumship, handling grief, and creating rituals to connect with our beloved dead, human and animal. Includes guided meditation, theory, exercise, practice, plus I will briefly connect to loved ones of some of the attendees, no guarantees. An opportunity to understand what happens in the afterlife, and how we can all connect to our loved ones. (2 hours)
Space Clearing at Home and at Work
Creating partnerships with our spaces helps them flourish as we become more comfortable, vibrant, and creative.
Clearing Ourselves, Clearing Our Spaces. Learn how to keep your body/mind/spirit and the spaces you live and work in energetically clear. Includes tapping your intuitive self to connect with your spaces to mesh their needs and wants with yours. Covers an actual space clearing, including rituals, tools, and a meditation to facilitate healthy changes. You'll leave knowing how to keep yourself and your spaces clear. (2 hours
Using Space Clearing at Work. How to use space clearing in real estate buy/sell, retail and corporate business, sole proprietorships, medical/wellness facilities, law enforcement. (1-1/2 – 2 hours)
Connecting with the World around Us: The Practical Cosmic
These workshops explore thought leadership brought to a practical and cosmic level. How do we live in a world of equality with all life?
How to Talk with All Life: a Workshop. Whether you're a newbie at intuitive communication or an experienced practitioner, you will identify your strongest intuitive ability as you learn to communicate with one of our guests in the workshop. They include animals, businesses, homes, cars, volcanoes, crystals, plants, the deceased, and land and weather systems. (5 hours).
Exploring Our Intuitive Partners. You can boost your intuition, healing, creativity, and loving connection with the world by inviting an intuitive partner to work with you. Learn how to use your intuition to connect with your intuitive partner, whether it is a crystal, animal, guide, or other being. Includes establishing boundaries, inviting and meeting your partner, guided meditation, intuitive exercises, mindset discussion, and storytelling. (1-1/2 – 3 hours)
Planetary Connection and Our Intuitive Selves. For thought leaders in all disciplines. What if scientists could talk with a hurricane? The possibilities! Here's how: if the paradigm for our time was not planetary healing but planetary connection. With that mindset we participate with all life as equals, not as guardians and caretakers. Explore how this mindset helps us to create relationships with other beings, from earth changes to a hurricane, volcano, interdimensional beings, our animals, homes, and businesses. The goal: to be our best intuitive selves at home and at work, to find our true purpose in life, to serve the planet by working with other beings. Includes stories of living equally with all life and introductions to interdimensional beings who would like to partner with us to share and learn together. (1-1/2 – 2 hours)
Connecting with Our Animal Families
Living the human-animal bond as a multi-species family.
Deepening the Human-Animal Bond: Connecting with Animals. Blends creating families with animals and animal communication with companion and wild animals, from jobs to soul purpose—what they do here and why. Learn your intuitive way of connecting with animals and leave with the confidence and skills to talk with your own animals. Includes guided meditation, theory, exercises, practice. (2 hours)
Animal Communication: How to Connect with Our Animal Family Members. Learn practical, inspirational ways to communicate with animals by focusing on the human-animal bond and creating multi-species families with animals. This class supports intermediate animal communication students by focusing on grounding and clearing yourself,  pinpointing your strongest intuitive ability, connecting to an animal, developing your own working methodology, communicating with wild and deceased animals. Covers mindset, health, behavior, common sense, conversations, choice, emergencies, dying, death. This class may start you on the road to becoming an animal communicator. (4 hours)
Talks on Intuition and the Human-Animal Bond
How do we use our intuition? How do we achieve our own greatness, at home and at work? What's up with our animal families?
Audiences: inspirational, motivational, business, creatives, artists, entrepreneurs, business and community leaders, body/mind/spirit.
Intuition
Practical Intuitive Development
Becoming Our Best Selves. The question "What are we supposed to do in life?" is really "How do we create our best selves?" I reveal how we can be humbled by our limitations but still find our calling in life, as I discuss my journey from disability to a life of wellness. I discuss the five keys to creating the lives we're supposed to live: changing our mindset, tapping our intuition, claiming our power, getting practical, and getting creative. (1/2 hour – 1 hour)
Using Intuition in Business. Quick tips on boosting your business using intuition to obtain and interpret information. With demonstration. (30 minutes)
Creating Strong Energetic Boundaries. If you're tired and uncomfortable at home and work, feeling drained and wondering why, you don't have strong energetic boundaries, so you're bombarded by everyone else's feelings and concerns. You solve this problem by learning how to use your intuition to tap effective, reliable new energy management techniques. (30 minutes – 1 hour)

Our Intuitive Lives: From the Practical to the Mystical

.

We are all intuitive. The problem is, we don't know how to use our intuition. I explore what intuition is and how to use it to create comfortable, fulfilling lives that nourish and sustain us. (30 minutes – 1 hour)

Using Intuition for Space Clearing.

Introduces a new space clearing modality, Space Cooperating™, and how we can clear our home and work spaces by intuitively talking with them to mesh their needs, wants, and insights with ours. Includes intuitive boundaries, rituals, tools, hiring a practitioner, and a hands-on actual clearing. You'll learn how to clear a personal or business space. (30 minutes – 1 hour)
Exploring Intuitive Mysteries
Meeting the Universe

. 

How we can expand our analytical, skeptical selves to be open to the true wonder of the universe: that all life is equal to us, has a soul, is conscious, aware, responsible, and ready to partner with us in building and maintaining a healthy, balanced planet. We explore what that means for creating healthy, vibrant communities, from our private to our business lives. (30 minutes – 1 hour)

Claiming Home: From Lemuria and Atlantis to Life on Earth. First presented at The One Gathering, June 2, 2013. A new world is dawning as we re-create the ancient world of connection with all life that we came here to create eons ago. What happened then, and what is happening now. (30 minutes)
Planetary Connection: Thought Leadership for a New Time. What happens when we move from a paradigm of being caretakers for the world to one where we are equals with all life? We can help the world save itself, whether we're scientists, artists, farmers, politicians, citizens. This new paradigm of planetary connection allows us to fully participate in the diversity of life and understand the role of other beings, from earth changes to animals and our spiritual mentors. We move from dominance to interdependence, recreating our communities and culture in the process. (30 minutes – 1 hour)
The Human-Animal Bond
My talks on the human-animal bond cover the practical, emotional, mystical, and comic dimensions of our lives with animals.
Audiences: Motivational, inspirational, human-animal bond, body/mind/spirit.
How Saving My Dog's Life Saved Mine: Lessons on Living Healthy Balanced Lives. When my beloved dog, Murphy, developed a chronic illness that mirrored my own, then saved us from an earthquake minutes before it happened, I decided to find out how the world really worked. This is the story of my family's journey from disability to wellness, how I discovered my life's work as an intuitive, and how we can all find purpose in our lives. For those who have faced hardship and loss or are simply seeking inspiring, practical life lessons for clarity and purpose in life and business. When we are humbled by limitations love teaches us how to discover our passion and our life's work as we create fun, healthy lives. (30 minutes – 1 hour)
Bridging Species: Creating Families with Animals.  How do we create multi-species families? What does it mean? What are family rituals? What choices do we make—from selling our home to save our dog or sharing cookies in bed at night? What are the stories that enlighten, inspire, and satisfy us while helping us live richer family lives with our animals? (30 minutes – 1 hour)
How the Human-Animal Bond Meets, and Survives, Death. Losing our animal family members is inevitable and heartbreaking. I cover the practical, intuitive, emotional, and spiritual tips and tools we need to both honor the dying process, say goodbye, and move on. Includes frank talk about what it takes to put informed choice where it belongs—with us and our animal families—including re-vamping outdated veterinary care and animal welfare models, from early spay/neuter to compassionate end-of-life care. How do we live, and love, the human-animal bond? (30 minutes – 1 hour)
Animals, the Afterlife, and Reincarnation. Using my e-book, Finding Oliver: How and Why Our Animals Reincarnate with Us, I discuss how our animals experience the afterlife, what their soul choice and soul purpose are, and if and how they come back to us (more often than we know). With real life stories from my family and client families. (30 minutes – 1 hour)
My talks all include the opportunity to buy my books.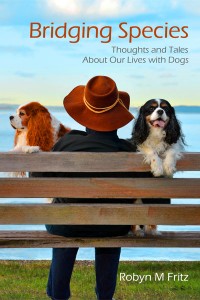 Bridging Species: Thoughts and Tales About Our Lives with Dogs. Winner of the 2010 Merial Human-Animal Bond Award, a prestigious national award honoring the writing that best exemplifies the human-animal bond. Available in print and as an e-book.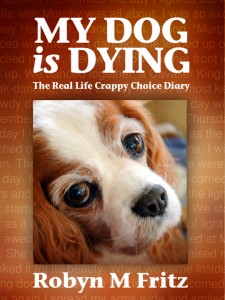 My Dog Is Dying: The Real Life Crappy Choice Diary
.
An e-book that incorporates blog articles about walking the last mystery: my last days with my beloved Cavalier King Charles Spaniel, Murphy, in Winter 2012, as she died from a cancer linked to early spay/neuter. Plus tips on surviving grief.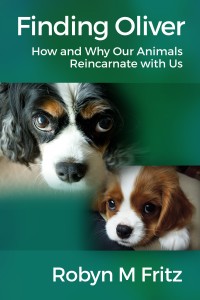 Finding Oliver: How and Why Our Animals Reincarnate with Us. Do our animals have afterlives? Absolutely. Do they reincarnate with us? Yes, no, and maybe. A chapter from my upcoming book Getting to the "After" Party: What Really Happens When We Die, this e-book explores my experiences with my animals coming back, again and again, how they make that choice, and what we should and can do about it.
Writing and Artistic Development
Discover creative coaching that can help you quickly and efficiently write books and marketing materials and tap your creative genius by exploring how you access it.
A six-week course for writers and creatives.
Storytelling Basics. How to develop a writing practice and to use the six elements of storytelling to find and write a story, whether fiction or nonfiction. These six essential storytelling elements—the who, what, when, where, why, and how of your story—help you find the heart of your story as they interact to shape it. Covers theme, plot/subplot, structure, characters, setting, description, point of view, and voice. Uses fun in-class exercises, short assignments, discussion, and published examples. Includes a brief evaluation of a writing sample and story outline after class completion. For fiction and nonfiction writers, beginning or intermediate. Six weeks.
A workshop for small groups and conferences.
How to Find Your Story. Get to the heart of a writing practice and your story. Using word association, personal stories, movement, meditation, music, nature, and intuition to jump-start the creative process and find the story you want to tell and that wants to be told. You'll experiment with different ways to start your daily writing sessions to see what and how stories surface. Fun, inspiring, and invigorating, a safe place to explore your creativity for personal or business use. For  artists, business/marketing professionals, fiction or nonfiction writers, beginning, intermediate, or advanced. For seminars and conferences on storytelling, writing, artistic development, and mind/body/spirit and for businesses needing to jumpstart creative insight. (2 hours)
This workshop is available for individual clients and small groups.
The Easy Writer Fast Fun Storytelling Workshop.  Learn to focus your novel, memoir, blog, or marketing materials so you can write efficiently and well. Together we'll analyze Janet Evanovich's comic mystery, One for the Money, using a simple 5-act plot/character grid and the six essential storytelling elements: the who, what, when, where, why, and how of a story. We'll quickly see how the novel's structure works: and how you can apply these simple tools to your own writing. We'll map out the main plot and 2-3 subplots. We'll also look at some of our own writing to apply the principles in class to your project. Once you see how a pro does it, you'll really jumpstart your writing. This is a fun workshop, popular at writing conferences and private events. Soon to be online. (2 hours)
© 2013 – 2018 Robyn M Fritz