My Books: Celebrating the Human-Animal Bond
E-Book Just Published!
Available now from BookBaby, and soon from other e-book distributors!
Purchase Finding Oliver  Only $2.99.
Delivered as AZW, EPub, or PDF. Soon available on Kindle, Nook, and other platforms.
Share your review on Goodreads and Amazon and other sites, soon available!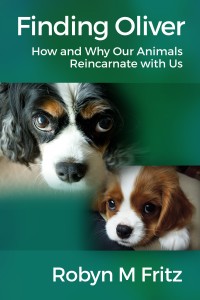 We create families with animals. They die. And sometimes … they come back.
Here's the true story of how Alki, the Cavalier King Charles Spaniel, died in 2014, reincarnated as Oliver the Cavalier in 2015, and found his way home again with the help of his bemused, quick-thinking human, a professional intuitive and animal communicator. Using true stories from her practice, including how her animals keep coming back to her, Robyn M Fritz shares how and why our animals reincarnate with us, how to say goodbye and let go as they die, and how we can "magnetize" them to come back again—but only if that's their choice.
A chapter, with pictures, from the upcoming book, Getting to the "After" Party: What Really Happens When We Die.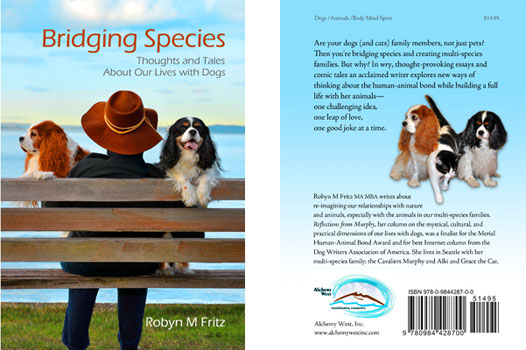 WINNER: The 2010 Merial Human-Animal Bond Award, Dog Writers Association of America. Check out our testimonials below!
Best Book Fall 2010: Spirited Woman Magazine
A collection of thought-provoking essays and comic stories about how I created a multi-species family, from mystical and cultural thoughts to the bumbling practical difficulties and fun times. It chronicles my journey from a woman with a pet to a woman with a multi-species family—two dogs and a cat—and the ideas we can all explore together as we figure out how to live authentic, full, fun lives with animals. It is a gift book for animal lovers, mystical and cultural thinkers—anyone who enjoys provocative thinking and fun stories about animals.
BUY a personally autographed print book. You can purchase directly from Robyn by clicking the Buy Now button below and adding how you'd like your book autographed in the Comments section.
$14.95 plus S/H. NOW $10 PLUS $4 S/H.
Buy from barnesandnoble.com or amazon.com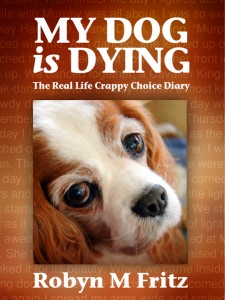 We live the human-animal bond in our daily lives with our multi-species families. But how do we live its ending?
Follow one family's account of their last weeks with a beloved, dying dog. From a shocking cancer diagnosis to the choice to "walk the mystery" together, it is their raw, uncensored, loving, practical, intuitive, mystical journey through grief and death—and out the other side.
If we're lucky we get to love an animal: we're luckier still to find the courage and grace to say goodbye. If you've ever loved—and lost—an animal, this story is for you.
Included:
the online diary entries
new articles on creating families with animals
inspiring practical advice on how you can live your own goodbyes, from veterinary and intuitive care to embracing grief
a call to save our dogs from the diseases caused by early spay/neuter
Available only as an e-book: from barnesandnoble.com or amazon.com
Testimonials for Bridging Species
Winner: 2010 Merial Human-Animal Bond Award, Dog Writers Association of America
2010 Holiday Top Picks List, Spirited Woman newsletter
"Anyone who has loved a dog knows a special secret: They adopt/foster/teach us, not the other way round. (In fact, it often seems our dogs are winking at us when we try to be "master, " don't you think?)
In her gently stimulating book, Bridging Species: Thoughts and Tales About Our Lives with Dogs, Robyn Fritz strikes a rare and delightful chord that makes the symbiotic bond we share with our "fur-kids" ring especially true.
Robyn's piquant insight into truly "bridging" with our pets is an uncommon gift, one we as animal lovers are fortunate to have available to us.
Combine this ability with a witty-yet-wise talent for communicating her understanding of the ancient arch spanning our two species, and one has little wonder why the Dog Writers Association of America bestowed Robyn's work with the coveted Merial Human-Animal Bond Award in 2010.
We can't imagine a more appropriate honor."
Barbara Garnett-Wilson and Roy A. Wilson, author and editor respectively of The Cavalier King Charles Spaniel, in Fact and Fancy and co-authors of The Cavalier King Charles Spaniel: A Tribute in Art.
 "I was delighted to have the opportunity to read Robyn Fritz's new book, finding myself at times laughing aloud and other times wiping away tears. Robyn's wit, humor and deep connection to the animal kingdom exhibits a level of 'knowing' and 'getting it' that is seldom expressed through the written word. It was a pleasure to have her join me in a special "Everything Animal" segment on The Catherine Bradford Show and I'm hoping we can continue our conversation about the importance of Bridging Species on a future show!"
Catherine Bradford, Talk Radio Host, The Catherine Bradford Show
"Robyn captures our thoughts and feelings about our furry family members. The stories and accounts are funny and heart felt. Bridging Species is a book we all can relate to."
Tim Link, Animal Communicator and Author of Wagging Tails
"Brilliantly witty, interesting and inviting, Bridging Species is a refreshing reminder of how we connect with our animal companions and them with us.  Weaving the reader through anecdotes,  Robyn Fritz captures life with her pack, reminding us how animals enlighten, educate and deeply enrich our walk with them through life.  A fun loving read!"
Rachael Millikan, Beyond Barking Animal Communication
"A wickedly entertaining and unexpectedly poignant read that will never make you see your pet the same way again."
Seattle reader
"Finally, here is someone who isn't trying to "humanize" me and my furry, four-legged friends! This author understands that dogs like me (along with the occasional cat) have much to teach humans about curiosity, resilience, gratitude and grace. Bridging Species will expand your thinking about the human-animal bond and help you create a new way of living and working with dogs."
Bella the Boxer, Author of Secrets of a Working Dog: Unleash Your Potential and Create Success
"It's enjoyable when a book about love between animals and their humans is sprinkled with humor and wit, with a dash of smart-aleck attitude; like cream, it rises to the top. If one considers that others, who do not currently look at their animals as family members, may take pause and consider what they're missing if they read it, the book takes on gem-status…. I think you'll want Bridging Species on your own bookshelf, but buy two—you'll undoubtedly want to share it with others without giving up your own copy."
Royal Spaniels, 2011
Acknowledgments: Thanks to the People Who Helped Me
Robert Lanphear of Lanphear Design is the best designer out there. He's done both my books and my new marketing materials, including business cards and web banners.
Mary Van De Ven is a wonderful photographer who is also a massage therapist and Reiki master.
The best copyeditor out there: Laurel Robinson of Laurel Robinson Editorial Services.
 © 2011 – 2018 Robyn M Fritz