OM Times Expert and the OM Times Institute
Join me at OM Times, where I am a proud member of the OM Times Experts platform and the OM Times Institute. I am hosting a weekly radio show, a weekly Facebook Live session, and regular webinars. Find my show at these sites:

OM Times Radio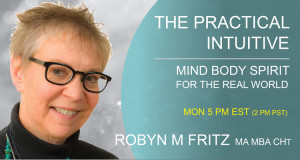 Mondays, 2 pm PST / 5 pm EST
Call in live: 202-570-7057 or email me with questions, comments, topics you'd like covered
"We are all intuitives and healers. We chose this life to grow our souls by becoming our best selves. Well … fine, you say, but let's get practical: what does that mean for our busy lives?
"We'll find out as we explore mind, body, and spirit for the real world with humor, warmth, mystical insight, and big doses of common sense. Because life isn't easy … but it's so worth it. And becoming our best selves—by learning to really love ourselves—is how we live it.
"Each week Robyn offers short intuitive readings and healings for callers; guided meditations; practical, thought-provoking, lively conversations; and occasional leading-edge guests—so you can help yourself love yourself, no if's, and's, but's, or BS—ever!
"Topics we'll explore include:
Personal and business intuition
Animal communication and the human-animal bond
Psychic mediumship, the afterlife, ghosts, the paranormal
Crystals, intuitive partners, rituals
Space clearing at home, at work, and in nature
Past life and between life regression, spiritual awakening, soul retrievals/journeys
Shamanic and energy healing modalities
Mindset, science, mysticism—and magic
Earth changes, the multiverse, and the mysterious (but real)"
Link to my shows on OM Times here through Podcast Bean.
June 5, 2017. Debut of the Practical Intuitive. What we will talk about in the coming weeks.
June 12, 2017. What's Up with Spirit Guides?  What are spirit guides, spiritual teams, who and what support or hinders us in our daily lives. Plus sponsor Rosie Gremmert discusses her work as a certified essential oil therapist and certified holistic health coach.
June 19, 2017. How Do We Live with Animals as Family Members? What does it mean for our soul growth, and theirs? Plus sponsor Terri Kent of Amberstone Pets discusses raw Baltic amber collars, natural flea and tick repellents for dogs and cats.
June 26, 2017. How Can We Boost Our Physical, Emotional, and Spiritual Health? How can we boost our physical, emotional, and spiritual health to help tap our natural intuitive and healing abilities? Plus we'll welcome our sponsor Dr. Aubrey Wallace, ND, a naturopathic physician and medical intuitive.
July 3, 2017. What Does Citizenship Mean for Intuitives and Healers? It's the Fourth of July in a time of upheaval. What does it mean to be a citizen of a city, state, country, planet? What do our intuitive and healing abilities tell us about citizenship, freedom, being a grounded and authentic citizen? How do we become citizens of a healthy, conscious planet?
July 10, 2017. What Is Planetary Citizenship? A Conversation with Mount St. Helens. We are all citizens of the planet first, equals with all life in the service of an evolving, conscious planet. What are our responsibilities to the planet, to each other, and to ourselves? Find out what Washington state's most active volcano, Mount St. Helens, has to say.
July 17, 2017. Soul Progression Clearing: Intuitive Insights, Essential Oils, and Energy Healing. Soul Progression Clearing helps people clear deep-seated issues that may go into previous lives or involve current life attachments, from entities to thoughtforms. It uses intuitive insight, shamanic techniques, the assistance of spirit guides and divinities, and crystal energy healing. Learn how and why to seek a clearing and how unique essential oil formulas can help clients and healers. With show sponsor Rosie Gremmert, Certified Essential Oil Therapist, Certified Holistic Health Coach.
Facebook Live: OM Times Magazine
Tuesdays, 11 am PST / 2 pm EST
Join me as we discuss all things intuitive and healing. Plus a guided meditation with Fallon, the Citrine Lemurian Quartz and special healing energy.
See the videos on my YouTube page.
Also see my Facebook Live videos on my blog, Bridging the Paradigms, and here on my website at my Facebook Live and Videos page.
OM Times Expert
Learn It Live Webinars
Join me at my Experts page. Regular webinars include meeting spirit guides, animal communication, animal afterlives and reincarnation, working and healing with crystals.
My Radio Sponsors
I am so proud, thrilled, and honored to have the following amazing, brilliant entrepreneurs sponsor my radio show.
Terri Kent of AmberstonePets.com creates handcrafted natural, safe flea and tick collars for dogs and cats from raw Baltic amber. Several styles are available from small to large animals (and matching collars for humans!). Raw Baltic amber acts as a natural deterrent to fleas and ticks, protecting your dogs and cats without chemicals or pesticides. The collars last about two years. Bonus to listeners! Enter OM TIMES in the Coupon area at checkout for free shipping!
Dr. Aubrey Wallace, ND, is a naturopath and medical intuitive with an international practice located near Seattle, Washington. An expert, compassionate medical profession and accomplished intuitive, Dr. Wallace can help you resolve issues so you can love being you. A bonus for my listeners! Dr. Wallace offers 15% off a medical intuitive session when you mention the show. Find her at LoveBeingYou.
Rosie Gremmert is a Certified Essential Oil Therapist, Certified Holistic Health Coach, and Certified Grief Support Specialist. She uses essential oils, especially Doterra Essential Oils, to support your growth. Bonus for my listeners. Rosie Gremmert offers free membership in her "I Can Do Heart Things 30-Day Courage Dare" and 25% off all purchases Email Rosie to grab this offer and benefit from her compassionate expertise: Rosie@ICanDoHeartThings.com
© 2017 Robyn M Fritz