OM Times Expert and the OM Times Institute
Join me at OM Times, where I am a proud member of the OM Times Experts platform and the OM Times Institute. I am hosting a weekly radio show, a weekly Facebook Live session, and regular webinars. Find my show at these sites:

OM Times Radio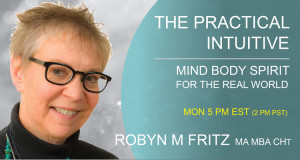 Mondays, 2 pm PST / 5 pm EST
Call in live: 202-570-7057 or email me with questions, comments, topics you'd like covered
"We are all intuitives and healers. We chose this life to grow our souls by becoming our best selves. Well … fine, you say, but let's get practical: what does that mean for our busy lives?
"We'll find out as we explore mind, body, and spirit for the real world with humor, warmth, mystical insight, and big doses of common sense. Because life isn't easy … but it's so worth it. And becoming our best selves—by learning to really love ourselves—is how we live it.
"Each week Robyn offers short intuitive readings and healings for callers; guided meditations; practical, thought-provoking, lively conversations; and occasional leading-edge guests—so you can help yourself love yourself, no if's, and's, but's, or BS—ever!
"Topics we'll explore include:
Personal and business intuition
Animal communication and the human-animal bond
Psychic mediumship, the afterlife, ghosts, the paranormal
Crystals, intuitive partners, rituals
Space clearing at home, at work, and in nature
Past life and between life regression, spiritual awakening, soul retrievals/journeys
Shamanic and energy healing modalities
Mindset, science, mysticism—and magic
Earth changes, the multiverse, and the mysterious (but real)"
June 5, 2017. Debut of the Practical Intuitive. What we will talk about in the coming weeks.
June 12, 2017. What's Up with Spirit Guides?  What are spirit guides, spiritual teams, who and what support or hinders us in our daily lives. Plus sponsor Rosie Gremmert discusses her work as a certified essential oil therapist and certified holistic health coach.
June 19, 2017. How Do We Live with Animals as Family Members? What does it mean for our soul growth, and theirs? Plus sponsor Terri Kent of Amberstone Pets discusses raw Baltic amber collars, natural flea and tick repellents for dogs and cats.
June 26, 2017. How Can We Boost Our Physical, Emotional, and Spiritual Health? How can we boost our physical, emotional, and spiritual health to help tap our natural intuitive and healing abilities? Plus we'll welcome our sponsor Dr. Aubrey Wallace, ND, a naturopathic physician and medical intuitive.
July 3, 2017. What Does Citizenship Mean for Intuitives and Healers? It's the Fourth of July in a time of upheaval. What does it mean to be a citizen of a city, state, country, planet? What do our intuitive and healing abilities tell us about citizenship, freedom, being a grounded and authentic citizen? How do we become citizens of a healthy, conscious planet?
July 10, 2017. What Is Planetary Citizenship? A Conversation with Mount St. Helens. We are all citizens of the planet first, equals with all life in the service of an evolving, conscious planet. What are our responsibilities to the planet, to each other, and to ourselves? Find out what Washington state's most active volcano, Mount St. Helens, has to say.
July 17, 2017. Soul Progression Clearing: Intuitive Insights, Essential Oils, and Energy Healing. Soul Progression Clearing helps people clear deep-seated issues that may go into previous lives or involve current life attachments, from entities to thoughtforms. It uses intuitive insight, shamanic techniques, the assistance of spirit guides and divinities, and crystal energy healing. Learn how and why to seek a clearing and how unique essential oil formulas can help clients and healers. With show sponsor Rosie Gremmert, Certified Essential Oil Therapist, Certified Holistic Health Coach.
Monday, July 24, 2017. Our Animals and Our Spiritual Development – Plus Natural Flea and Tick Remedy. How does our spirituality affect the human-animal bond? Call in to chat about you and the human-animal bond, from brief intuitive and healing readings to questions and comments. What do spirit guides and soul clearings and daily life mean for our multi-species families? Plus we'll welcome our sponsor Terri Kent AmberstonePets.com for a Q&A on her natural raw Baltic amber flea and tick collars for dogs and cats.
July 31, 2017. Medical Intuition, Wellness, and Intuitive Development. How can we develop our intuition to support our well-being? Learn some tips and techniques that help. We will welcome our sponsor Aubrey Wallace ND, naturopath and medical intuitive, to dig deep into how medical intuition can support our mind, body, and spirit with specific paths to wellness that lead to enhanced well-being.
August 7, 2017. Wellness, Intuition, and Soul Growth. As souls we took bodies to promote soul growth. Learn some tips on supporting soul growth through intuitive development and alternative wellness practices. Plus Seattle chiropractor Winfield Hobbs DC PS FACO will discuss what chiropractic care involves, why you should consider it, and how it can benefit you.
August 14, 2017. Animal Communication and Our Animal Families. We can all learn to communicate with our animal families for fun conversations and wellness issues to family harmony. Call in to chat about or with your animal family members as we share stories of how people and animals grow their souls as families. We will also welcome show sponsor Terri Kent of AmberstonePets.com.
August 21, 2017. Why Past Life Regression Matters, and How Essential Oils Support Healing. Past life regression, done intuitively, shamanically, or through soul regression hypnotherapy, can support healing of fears, phobias, and traumas going back lifetimes and help tap skills and abilities from previous lives. Why it matters, cautions, stories, and how certain essential oils can support continued healing afterwards. With show sponsor Rosie Gremmert.
August 28, 2017. How Hurricanes Save the Planet. Hurricanes are massive cleansing forces created annually on a schedule to cleanse the land and sea they move over. They have spirit guides, or guidance forces, that support their work. Without hurricanes the planet would freeze (and they are coming in increasing force to keep the Gulf Stream moving. Plus a follow-up with Dr. Aubrey Wallace, ND, and medical intuitive: what happens after a medical intuition reading.
September 4, 2017: Free Mini Intuitive and Healing Readings PLUS Sacred Play. Call in each week for mini intuitive and healing readings or to ask a question or comment on how we tap our own intuitive and healing skills in our busy home and work lives. What's up in the world? What does it mean for us? How do we thrive in tune with our intuitive and healing skills? Explore mystical and intuitive insight with Robyn and the occasional guest with new and sometimes controversial takes on personal and business intuition, animal communication, psychic mediumship, crystals, space clearing, past life and between life regression, spiritual awakening, soul journeys/retrievals, earth changes, energy healing, the multiverse, and more. Plus the role of sacred play: how watching orca whales hunt salmon and listening to angels sing to Beethoven's music teaches us to let play help us grow.
September 11, 2017: Free Mini Intuitive and Healing Readings PLUS Sacred Work. Free intuitive and healing readings or to ask a question or comment on how we tap our own intuitive and healing skills in our busy home and work lives. Plus the role of sacred work in growing our souls and living our lives with purpose and power.
September 18, 2017: Free Mini Intuitive and Healing Readings PLUS Grief Support. Free mini-readings for callers or those who email questions. Plus how we deal with the grief of losing beloved people and animals.
September 25, 2017. What's Our Purpose? Exploring Ancient Atlantis and Lemuria. What's up with the world … and us? We're talking soul purpose, our many lives, and what the heck Atlantis and Lemuria have to do with it! Plus mini-readings.
October 2, 2017. Is reincarnation real? What do religions and cultures think about reincarnation? Why does it happen? What does it mean? Plus readings.
October 9, 2017. What's up with Crystals? We've been working with crystals for eons, so let's ditch the notion it's weird. What crystals will do for you, and the story of meeting Fallon, the Citrine Lemurian Quartz. Plus callers.
October 16, 2017. Clearing Ourselves and Our Spaces. Our spaces are alive like we are, and need to be energetically clear to be their best so we can be our best.
October 23, 2017. We Die, then What? What happens when we die, from my work as a medium partnering with my deceased dad, Ray.
October 31, 2017. Who Are the Stuck Dead, and Why Do They Matter? The stuck dead are those who have yet to make it to the afterlife. The reasons? It's mainly lack of self-love, which leads to doubt and feelings of unworthiness.
November 7, 2017. What is real? The multiverse and discernment. The multiverse is real: there are alternate earth dimensions. How do we discern what is true and what isn't?
November 13, 2017. Can intuition boost your business? Tips on discernment, how intuition is practical, and how it can boost your business. Plus mini-readings.
Facebook Live: OM Times Magazine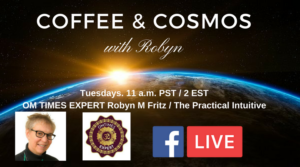 Tuesdays, 11 am PST / 2 pm EST
Join me as we discuss all things intuitive and healing. Plus a guided meditation with Fallon, the Citrine Lemurian Quartz and special healing energy.
See the videos on my YouTube page.
Also see my Facebook Live videos on my blog, Bridging the Paradigms, and here on my website at my Facebook Live and Videos page.
OM Times Expert
Learn It Live Webinars
Join me at my Experts page. Regular webinars include meeting spirit guides, animal communication, animal afterlives and reincarnation, working and healing with crystals.
Current Webinars:
Meet the Practical Intuitive. FREE. What I do, why it matters to you.
Soul Progression Clearing: Experience Healing and Growth. FREE. A clearing and healing technique that combines intuitive insight, shamanic modalities, assistance from spiritual teams and healing divinities, and Reiki and crystal energy healing.
Meet and Work with Your Spirit Guide. $25. Learn the in's and out's of spirit guides, receive a gift from yours to more easily connect with them on your own, and meet and work with your guide.
Get Ready for Animal Communication, a prep for the workshop where we share what we heard from animals: Animal Communication and Our Animal Families.
Experience Past Life Regression. Explores intuitive and shamanic ways to undertake a past life regression plus soul regression hypnotherapy, in which a certified past life regression specialist (like me) guides clients through a deep soul exploration.
How To Be Your Best Self. FREE. Tips on becoming your best se
My Radio Sponsor
I am so proud, thrilled, and honored to have Terri Kent of Amberstone Pets sponsor my radio show.
Terri Kent of AmberstonePets.com creates handcrafted natural, safe flea and tick collars for dogs and cats from raw Baltic amber. Several styles are available from small to large animals (and matching collars for humans!). Raw Baltic amber acts as a natural deterrent to fleas and ticks, protecting your dogs and cats without chemicals or pesticides. The collars last about two years. Bonus to listeners! Enter OM TIMES in the Coupon area at checkout for free shipping!
While Terri has also made necklaces and bracelets for people, because raw Baltic amber has been used for centuries for pain relief and anti-inflammatory use, she has now created new pieces especially for OM Times listeners. We put our heads together and came up with pieces that include turquoise, for grounding and protection, and clear quartz, which helps with clearing and amplifying the natural properties of other stones and, in this case, the amber. She can also add lava beads if requested: you can put essential oil on the beads to support the healing properties.
Necklaces start at $57 and bracelets/anklets at $38.
Again, remember to add OM TIMES in the coupon area to get free shipping.
Here's a large dog collar (the Brutus) and a collar for smaller dogs/cats:
And here's a human necklace and bracelet/anklet.
© 2017 Robyn M Fritz