Some Testimonials About My Work
"If you are looking to discover what might be blocking you from your past look no further than Robyn Fritz and Fallon!  I recently had a past life regression session with her (via telephone) and had an enlightening experience that gave me the clarity I was seeking!  I felt safe and had all my questions answered.  I now understand where my fear came from (in a past life) and how it can empower me today!"  – Lisa Lamont, CHt, Life & Business Intuitive Advisor, Hypnotherapist, Radio Show Host, Author
"Robyn's guidance in past life regression is direct, highly intuitive and thorough. In working with her I was able to connect with a past life persona that has been keeping me from stepping into my power fully in this lifetime and re-integrate that part of myself. The session was transformational for me. I strongly recommend her work." – Dr. Aubrey Wallace, ND
"I had a very unexpected, yet very powerful, experience in my past life regression appointment with Robyn. I was having a personal issue that I was pretty sure was related to previous life experiences, but I had no idea until the appointment just how complex it was. Robyn asked safe, appropriate questions that helped direct me on my journey to the answers. There was much revealed in my session and I'm still finding healing moments occurring even several months later. I am very grateful to Robyn  for this experience and healing in my life." – Karen Cleveland, Animal Communicator and Healer
"I had a session with Robyn, and was completely surprised. Her connection with the other side, whether it's an intuitive session or animal communication or mediumship, whatever it is, is open and direct, making her work and teaching relevant and useful. Other psychics make it seem so complex and mysterious, which makes the message and teaching less relevant. For Robyn it's all part of daily life, and that is powerful." – Paul, student
"Recently I asked Robyn to help me better understand a working relationship between myself and a colleague. We both volunteer for two non-profit organizations and work closely together. Without knowing any more than this introductory information, Robyn shared an amazingly accurate assessment of our relationship dynamics, suggestions for what I could do to make our interactions more effective, and provided a prediction for a significant turning point six months down the road. I have already implemented some of her suggestions and curious to see how the next few months play out. No doubt I will be touching base with Robyn for a follow up session. Her unique abilities have added a new resource to my personal tool kit!" – Sue
"My hypnosis session with Robyn was amazing! We looked back at a scene from my childhood, maybe an hour from a single day, but the insight gained has been almost unfathomable. The experience has led me to consider family patterns playing out from generation to generation, to reframe my relationships with both nuclear and extended family members and to understand decisions that were made at that time. I came out with a greater understanding of myself and complex revelations about the people around me. In a strange turn, I saw the exact same issues brought out by hypnosis at work in the lives of extended family members whom I haven't seen or spoken to in years. It was like I was being prepared in advance to process events that would happen in the near future. The hour I spent with Robyn is so far the most impactful hour I've ever spent on my own personal development and three months later I am still feeling the repercussions." – Christina
"I have been a client of Robyn's for some years. I do enjoy her intuitive energetic work and sessions with Fallon. I was amazed at the success I felt doing a past life regression hypnotherapy session with her. I felt engaged and a part of the process the whole time. We identified new guides and found obstacles that had been blocking my growth. Things made more "sense." On a follow-up session more was revealed and since that time I have felt more relaxed and able to move forward without the baggage. Issues got resolved. Thank you, Robyn, for all you do for my well-being." – Mary Van De Ven
"Recently I had the privilege of working long distance with Robyn, uncovering my spirit guide team and my life purpose. While I'd never had this experience before, I came away feeling so incredibly loved, empowered and focused! A month later, I am still uncovering little nuggets of wisdom that is aiding me in my journey each day. During the session I received a profound gift that has given me the ability to handle all the changes, emotions and stress I've been encountering lately and I will be forever grateful for her help in uncovering this gift. I absolutely recommend her work, in whatever capacity you need. Robyn is a gem who truly has the ability to connect you with your better self, your support team and the spirit realm." – Beth S
"Robyn guided me on a meaningful journey. She helped me get in touch with my blockages and gain insights I did not expect. Typically I struggle with reading my intuition, but with Robyn's guidance I was able to tap into my intuition to learn valuable things about my inner self." – Lisa P.
"Not know what to expect from a past life regression, I was pleased that it turned out to be effortless. After a relaxing exercise it turned into a question and answer session. If you get stuck on something, Robyn moves you on to another time that could give you more insight. At the end there is a recap. I would not hesitate to do it again." – Margaret Norton, Portland, OR
"No one's ever held a space that large and safe for me before." – Laura
"On Monday of this week I had the pleasure of joining one of Robyn's live Facebook book feeds for the first time. I must say that while I listened to her I could feel my chakras clearing and my vibration increasing. I was fortunate enough to be selected for a reading. I'm still in awe of how right she was. She honed in on a subject I hadn't shared with anyone. Since the reading I have felt so calm and can't wipe the smile off my face. Everyone has noticed a difference in me. If you have the chance to get a reading from Robyn you will truly be blessed. Namaste." – Cheryl Corley-Simpson
"My session was very insightful. I loved how Robyn created such a safe space for this journey which allowed me to access insights that previously eluded me about a situation in my life. These insights are helping me to focus in a new way, so I can now move forward with greater ease and open up to new possibilities." – Ferris Jay
"My session was life affirming. I was easily able to be hypnotized over Skype, which surprised me. When she took me back through several past lives, I could see and feel the same emotions that I am feeling in this lifetime, "accepting my lot in life" when what I really want is to soar (I am hearing in my head and heart, ROAR!) and be creative. My session was insightful and healing, I felt safe, comfortable and protected. You are a delight to work with, I enjoyed your humor. I highly recommend Robyn." – Lisa
"Intuitive, skilled, smart, fun, funny, compassionate and can talk with animals! Robyn is the real deal and someone you'd want as a friend." – Shirley
"I met with Robyn and Fallon looking for input on what might be holding me back from experiencing my full life potential and purpose. As we talked Robyn totally put me at ease, asked me a number of questions and really seemed to listen fully. I was interested in uncovering possible blocks that might be slowing me down on my life path.
"She then guided me into my safe haven while helping me delve into past conditioning. We were able to explore and look at many different spaces, times and experiences. I definitely felt a sense of grounding and calm when I left. Love her honest humor and wisdom and wholeheartedly recommend a session. One appointment was great but I think spending more time exploring could be really helpful. I totally agree with her perspective on changing our mindset to empower our lives, which includes how we think and live in the world and that everything is equal." – Sylvia
"I went to Robyn for a past life regression and I am glad I did. Robyn's home is warm and inviting. I felt completely relaxed and calm with her. I thought I would have trouble since I was sitting up in a chair but Robyn was so good that I was able to fall into a deep state without any issues. If you're interested in past life regression I would recommend her." – Rachel Z
"Very powerful and enlightening! I was amazed at what was revealed to me in just one session. By retrieving a part of my soul that was lost as a child, it enabled me to see what was holding me back in my life. I highly recommend Robyn to anyone seeking spiritual awakening and more clarity in their life." – Anne
"Robyn was able to create a safe and comfortable space for my hypnotherapy session. While my subconscious took our journey in what I thought were some strange and unusual directions, Robyn didn't hesitate or judge at all, and guided me through the experience with ease. In just our first session I was able to connect with a lost power and begin creating positive change in my life." – Kashondra
"The session was great even though I was skeptical. It pulled up and connected some experiences for me that helped me clarify things in my present life. I would definitely do more sessions to explore this further." – Jennifer
"Robyn's clear, calm instruction guided me into a deep spiritual place to access past life information. With Robyn's guidance and help, I was able to heal some blocks from a past life that were preventing me from moving forward in this life. I am grateful to Robyn and Fallon for facilitating a powerful spiritual journey for me." – Sarah W
"Thanks again for the work we did together, it was fun, a lot of hard work, yet very relaxing. Time flew by! Now a week later the mantras resonate even more, interesting, valuable for me to mull over. What a remarkable way to tap deep into my soul and learn from myself!" – Jeffrey
"I didn't know what to expect, but I was hoping for a wonderful soul journey in my first experience with my spiritual team. I was so astounded when they presented me with a gift of a box of love. I have always struggled with whether people are going to like me, so that was very special. And my deceased husband joined me, how wonderful! I discovered in this journey I'd felt lonely and abandoned by my mother, and I just forgave her, it was her issue, really, and now that feeling is gone. I had a fascinating journey through a forest and on a stream, and even met some of my ancestors, who told me they are looking out for me and love me. I learned my love of animals goes back lifetimes. Once my journey ended I knew why the box of love was so important: it's me, it's the love I feel for all beings and animals, and for myself. If people misunderstand me, it's them, not me. A lot came up I wasn't expecting. An eye opener for sure. I am grateful to Robyn for her patient, kind, and skillful guidance, which helped me explore things I was hesitant to look at. No matter what showed up, she was strong and supportive, and I was always safe with her. Highly recommend you try it!" – Jody
"Our past life regression was fascinating. It introduced other parts of myself that may be affecting or influencing this current life. I have only been introduced to one ancient language that I speak when I am in ceremony or trance. Through the past life regression I met myself on an extraterrestrial plane speaking another language and expecting you to know what I was saying and talking about! I was also the thoughts of a horse that must have had a telepathic relationship with its rider. After reflection, I realize that I have been many things from animals, planetary influences and thoughts in hopes to broaden the intra-communication through kingdoms, dimensions and consciousness. In other words, Robyn, thank you for the incredible healing and illuminating experience of past life regression. Blessings to you." – Melanie, Seattle
"Thank you for the reading. Great help to righting my life ship." – Patty
Robyn is truly gifted in her quick perceptions of issues. She has helped me tremendously with our blind dog and given me confidence in my own intuition." – Juhree Zimmerman
"On Monday of this week I had the pleasure of joining one of Robyn's live Facebook feeds for the first time. I must say that while I listened to her I could feel my chakras clearing and my vibration increasing. I was fortunate enough to be selected for a reading. I'm still in awe of how right she was. She honed in on a subject I hadn't shared with anyone. Since the reading I have felt so calm and can't wipe the smile off my face. Everyone has noticed a difference in me. If you have the chance to get a reading from Robyn you will truly be blessed. Namaste." — Cheryl Corley-Simpson
"I have had a number of intuitive readings with Robyn.  I find her skills and predictions to be on target, and helpful in gaining clarity in both personal and professional areas of my life.  She has a lovely sense of humor, is empathetic, and is quite knowledgeable in a wide variety of spiritual  and psychic modalities.  I always eagerly look forward to my sessions with Robyn!" – Marie
"Intuitive, Skilled, Smart, Fun, Funny, Compassionate and can Talk with Animals! Robyn is the Real Deal and someone you'd want as a Friend." — Shirley Wood
"Robyn is down to earth and her work is effective! I had a very uncomfortable situation in an apartment that I had moved into and knew I needed real help asap. I felt like I was in good hands from the first chat. She performed a wonderful space clearing and home blessing that made a big difference. I am so grateful that she does this work and enjoy recommending her to friends and family!" – Nicole
"Meeting with Robyn and Fallon was a really unusual, fun experience. Robyn is very easy to talk to, and I trusted her and felt at ease with her right away. She not only listened and helped me to get grounded, she also provided me with excellent, down-to-earth advice about how to succeed at a new job I have undertaken. After meeting with her, I felt more sure about how to move forward and more at peace inside. "Oftentimes for me, spiritual counseling sessions can feel scary or emotionally difficult, but my time with Robyn felt more like a relaxed chat with a really smart, warm-hearted friend. Also, experiencing Fallon's energy was amazing, like nothing I have ever witnessed before. The combination of the two together was very impactful." — Kristen in Seattle
"That session was pretty cool, we covered a lot. I'm glad you made a recording of it. Thanks for sharing your time, wisdom, and kindness with me." — Jim in Portland
"Fallon has always spoken to me in images and feelings. Sometimes it is a wild journey with vivid colors and rollicking times. Lately he reminds me to allow for more fun in my life and to lighten up." — Mary, massage therapist and Reiki master
"My session with Robyn and Fallon at East West Bookshop in Seattle was fun! Astral traveling across dimensions! Who knew? Fallon is friendly, funny, and sharp. Together they helped me experience a new way of using my intuition."— Samantha in Seattle
"I had an emotional session at East West Bookshop with Robyn and Fallon. I was able to talk with a deceased friend and understand how valuable I was in his life. I asked Robyn how she could deal with such intense feelings. She said she and Fallon are there to help, and he is a healer. A crystal healer! Warmth, generosity, and humor. It was great." — Beth in Seattle
"We had a lovely experience together, filled with light and laughter." — Mary in Seattle
"Robyn worked with my home this fall and completely changed the vibe of the entire house. When I purchased this home in Bellevue about 3 years ago as a foreclosure I noticed some definite negative energy in the place. My partner and many of my friends got a spooky feeling when they were around the stairs or in the upstairs hallway. This led to an overall uneasiness for guests when they would come over.  Now I'm trying to sell the home but that negative energy seems to be keeping people away. Robyn came over and walked through the home room by room and cleared all of the negative energy. There was a very noticeable change in the home when I came back next and my friends and Real Estate Agent completely felt it too: they were blown away. If I had known about this when I first purchased my home Robyn would have been hired on day 1. The home is more pleasant to be in and I've gotten 3 offers on the home within 2 months of hiring her. I also feel much better now that I know I'll be providing a warm and inviting place to live for the next owner." — George, Seattle
"My session with Robyn and Fallon for my land was full of insight and was quite an eye opener for me (opening me up to new possibilities). I have a feeling it's a catalyst for a very exciting adventure ahead. It also helped confirm some thoughts and ideas that I had as well as presenting some new ones that I never would have thought of on my own (a real case of meeting the right person at the right time). Thank you, Robyn, for your generosity with your time and energy." – Ferris Jay, Ireland
"Wow, I never thought about it that way before." I'm a pretty out-of-the-box thinker, but Robyn never ceases to offer me a different perspective. Whether it's during a one-on-one session, or in a workshop, I can always count on learning a great deal from Robyn. Sometimes it's about me, sometimes about the world around us, but it's the kind of learning that brings growth and connection. I first met Robyn when I was looking for someone to help me with a house clearing. "Space cooperation," she said. Wow, I never thought about it that way before. Since finding her, I have had personal Mindset Alchemy sessions, attended two of her workshops (Intuitive Communications and Using Your Intuition in Space Clearing), and invited her to my home for a Space Cooperating session. She was hugely helpful to me during a deeply transforming time in my life. I think what impresses me the most is that she approaches the task at hand with a broad range of tools and approaches. It's definitely not a one-size-fits all thing with her and Fallon. In fact, I have yet to bring up a topic or concern where she hasn't had two or three different tools to offer. I like that—it strips away all the dogma in favor of a pragmatic approach. She's warm, engaging, smart, funny, and caring. If you're looking for someone to say a prayer, or a chant, or something that is just traditionally done to you or for you, Robyn's the wrong choice. But if you're looking for something meaningful in which you engage yourself in learning and growing, she and Fallon are ready for you." — Pat in Seattle
"I first met Robyn and Fallon when I saw a flyer at East West Bookstore. Meeting with Robyn and Fallon was a peaceful experience.  I am not one to see a fortune teller and though Fallon is a crystal ball, working with Robyn and Fallon was no where close to a fortune teller experience, which I why I was drawn to speak with Robyn and feel the calming presence of Fallon's healing energy.  I was able to present my questions and things I was grappling with at the time, and hear deeper insights reflected back to me by Robyn and Fallon.  They were insights that resonated with and put words to what I was feeling, which helped me gain my own greater clarity.
"Months later I had an odd situation occur after I had attended a Shamanic group.  Unfortunately the Shaman did not first provide us with adequate protection, so later that night some odd disgruntled spirit woke me up in the middle of the night.  I am not crazy and nothing like this had ever happened to me ever in my life.  I was obviously distraught and at a loss as to what to do about it.  I remembered that Robyn said she did energy clearing.  So since I had such a nice peaceful experience with Robyn and Fallon I contacted her.  Over the phone she and Fallon immediately began doing work on my home.  She said she sent Fallon there to begin clearing the space and to hold the space until Robyn was able to get there herself a couple days later.  When I returned home that night I could feel the peaceful energy of Fallon and I slept in comfort that night.  Later with Robyn and Fallon arrived, they were able to successfully clear my space and it has been "healed," so to say, ever since.
"This was a very odd thing for me to have gone through and it was something I did not feel I could share with anyone without them thinking I was crazy.  I felt comfortable speaking with Robyn and she knew what to do because she understands how to work with varying realms of energy.  It is brave work that she and Fallon do.  But especially brave for Robyn.  I feel one of the reasons Robyn and Fallon are so successful at what they do is because they approach their work with humor.  And Fallon is definitely a jovial, kind, caring, compassionate and silly energy.  Because of my unusual and odd situation with a really unhappy energy, I am so grateful there are people like Robyn who are doing what they do to help restore balance and heal energy, along with the healing energy powers of Fallon." — Holly, business and homeowner, Seattle
"What I love about working with Robyn is that she is all about empowerment.  She will give you new skills for dealing with your issues by yourself and she has gone out of her way to help us find extra help for specialized needs. Her work with us has included complex space clearings and personal intuitive coaching. She also has been very good at working with my 3 elementary age, highly intuitive children, teaching them how to handle their abilities. If you keep an open mind, you may find that working with Robyn expands the range of what "normal" is for you and gives you a broader view of what life, the world, and even you, yourself are about." – Christina in Seattle
"My house was haunted. I could hear someone walking around the house at night, things dropping and paper crumping, and I was even touched on my arm. After talking with Robyn about it, I had her and Fallon clear my home remotely, as I live in a different state. Robyn sent me out for clearing materials: incense and sea salt. Then we set a time where she and Fallon talked with the ghost in my home and found out what was really going on. Not all ghosts are ghosts, we discovered. Somehow they are sometimes people living in other time periods. Robyn discovered that as she and Fallon quietly and compassionately talked with the ghost and then cleared my home. The house immediately felt lighter and happier. And so was I! The disruptions ended. I credit them with precise, compassionate thinking and professional work that cleared everything! And I'll let them tell the whole story. But here's what I like about Robyn. She listens, she thinks about the situation, she talks with the beings involved, especially concerned people! and she approaches it from both an intuitive and practical mindset while she paves new ground in intuitive work." — Jody in California
"The best money I've spent in a long time. I can now move forward with my project!" Nancy in Seattle
"We had a business clearing with Robyn. She told us that we should change our website and have different colors and a different look within a few months. I was initially sad to hear that because that would be a lot of work. However, a few months later we came across the Kalabarian Society which teaches that the way a name is spelled affects a person or a business. They told us our business name was not a good strong business name, and the business could eventually fail. That had actually happened to us in one state and we moved to another and did not want it to happen again. They recommended that we change the business name and I remembered the clearing with Robyn, as we would also need to change the website. As we were changing the name we decided to change the colors of the website to ones that our angel business guide would like. Robyn told us about this angel and told us what color would be best in regard to her helping us and being in vibration with our business. We also rewrote a lot of the website to make it more clear and user friendly, so the website is very different. The colors are now softer and people tell us they like our new name and new look. When we came across the Kalabarian Society it was like confirmation that what Robyn told us was correct. The two together helped us to change our name, look and website. We are still in the new stages of all of this so I am not sure how it will affect the business in the long-term, but we feel positive about it all. It was amazing how all of this fell together in few months without me actually pursuing or pushing for a major change." — J.S. in Portland
"Robyn is the "real deal" as far as psychics go. The information that came through was accurate and clear, and Fallon is really cool. Good vibrations! If you are ready to open up to an expanded sense of the Universe, see Robyn and Fallon. No brainer!" – Deena in Seattle
"Robyn was incredibly helpful in working with me to connect with my beloved Grandfather. My Grandmother continues to thrive mentally but at 92 but her body is tired and states she is ready to go. Robin's communication with my Grandfather gave us heartfelt guidance on what it is like on the other side, why she might still be holding on to this lifetime and how she can let go if she so chooses. Her extraordinary faith in her own father and her life's work is inspiring. She connected with me on a deep soul level and I knew she was speaking to my Grandfather, as how else would she have known all of that?! I will definitely meet with Robyn again and again." – Lisa
"I have to admit, I thought it was strange. Her dad runs a place where the dead go? But after talking with Robyn, and experiencing Fallon's energy, I was stunned to find out it's real, more real than any other spiritual idea I looked at. Plus I got to talk with my cat, Tina, and know that she was okay, and I guess having fun now that she's not in pain in her body anymore. I miss her. I'm grateful people like Robyn are doing this work." – Amber in Seattle
"Since our session my heart feels less heavy, and I feel my sweet dog all around me. I look forward to working with you again." — Joelle
"It is souls like yours that keep the faith in humanity and god alive. May god bless you and continue his love on you." — Sarita
"I just couldn't forgive myself for, well, just not being the perfect daughter. Maybe we all feel like that, but I couldn't get past it. So I visited Robyn, and her dad got my dad, who died a year ago, and we talked. Turns out he didn't think he was that great a dad to me, and we both realized that it was okay, we could move on. I wish we'd said this when he was alive, but I feel better now." –Em in Seattle
"I just wanted to say thank you so much for hosting/teaching such an amazing workshop today!" – Kirsten
"I am feeling great! I received a lot of clarification and understanding during our session that has been very helpful. Thank you again for your guidance and for sharing your gifts." – Amy
"After my dog suddenly died, a friend told me that she had seen a TV show talking about  pet communicators and that there were pet communicators in the Seattle area. When I searched this topic I found Robyn's website and I knew instantly that she was the person I needed to contact. I immediately called the number on her website and was so happy when she answered! I told her about my dog dying and she talked with me for quite some time which was so wonderful! I made an appointment to meet with her in one week. After hanging up I noted on her website that her business hours were 10am to 4pm and I had called her at 8pm! Despite the call being outside her normal hours, she talked with me and never once mentioned this! I felt that I was out of line to call at that time but then also realized how very, very considerate it was for her to even take my call. I was really a mess and she absolutely helped me feel better.
"I had spent every day with my dog Mr Baby for the past 10 years and took him with me everywhere.  His leaving caused me more grief than I had ever experienced which is why I was having such a hard time. Two days later, I called Robyn to ask a question. During that call Robyn could tell that I was a complete mess, so she rearranged her schedule in order to see me later that day which was much sooner than the appointment we had previously made.
"This was completely new territory for me. Robyn opened my mind to so many things I had never even thought about and helped me to understand these things. She was able to communicate with my pet which was so very comforting and what I needed.  Everything I learned from our meeting has helped me. Robyn was a lifesaver and I am so grateful to have found her. I look forward to many followup meetings!" Deb in Seattle
"I have consulted with Robyn on several occasions to help me communicate with my dogs and cats over the last couple years. In two cases she checked in with two of my pets who were elderly and whose health was failing rapidly. The messages she received from these beloved pets and her insights into their pain levels helped me to make the difficult decision when to let them each go to the other side. I was at peace. In another instance I called Robyn in desperation because a very weak and sick kitty escaped our backyard and went on 'walk about.' Over a period of two days through a series of several short phone calls she helped to retrace his steps, where he was eating and sleeping, identifying which neighbors he visited, and where ultimately he was found. Her descriptions of what my cat was seeing on his journey were 'spot on.' Robyn will always be a resource I turn to in order to better understand and problem-solve the needs of my animal family." – Sue
"A couple of weeks ago I found myself in a crisis with my elderly dog. I had known for some time that she was approaching the end of her life, the only questions were when and how. She had no disease process that any vet could determine, she was just suffering from the inescapable ravages of old age. She had good days and bad ones; up until that day, the good ones seemed to outnumber the bad.
"I awoke after a particularly difficult and restless night with her and felt with some certainty that the moment of decision had arrived. Should I help her make the transition with euthanasia or did I allow her to die naturally? I believe that my relationship with a companion animal is a kind of sacred trust. I wanted to do what was best for her, what she would tell me she wanted if I could hear her. By some little miracle I found Robyn Fritz. I called her that morning and told her what was going on, asked for an emergency session.
"Robyn was so kind, loving and compassionate. She told me she'd check in with Sasha and call me back in an hour. She confirmed what I had been feeling: that my beautiful girl was exhausted, her organs were starting to shut down and, although she could die on her on in a short time, and there was no suffering involved, she was fine with some assistance. I knew in my heart that Robyn was right. She was such a shining light for me that day, helped me find the courage to take the steps needed to do the right thing for this wonderful creature who had brought such love and joy to my life for 12-1/2 years. Robyn even called later in the day to see how we were both doing.
"There is nothing easy about saying goodbye to a precious dog whom I have loved so much for so many years. But Robyn's loving, steady presence and wise demeanor carried me through the day and helped me do what Sasha needed me to do, with peace in my heart." – Midge J.
"I really can't thank Robyn enough for the session with our cats. She has gone WELL beyond the level of support I was expecting. Our sessions with other intuitives were NEVER this thorough, nor did they include such wonderful follow-up. She has given us a solid foundation from which to take the first step towards helping our cats be happy. Rather than finishing the session and saying, "OK, good luck!", she has continued to make everything much clearer via her wonderful emails, and we so very much appreciate that." Jenn in West Seattle
"My dog had been missing several hours when Robyn called and told me to hurry over to the bottom of a nearby park and call him. A few minutes after we got there and started calling, he bounded up, trailing a leash! Turns out the people who found him decided to take him for a walk in the park. I was so relieved!" Rose in Seattle.
"Sammy hasn't killed a bird in months! Yes!" Fred in Seattle
"Robyn helped a lost dog survive 6 days in the snow, led us to her shelter, and convinced her to come home. You can bet the dog got the Chicken McNuggets she asked for! Robyn also told us how a lost dog died. And she's helped us through issues with showing dogs and helping a pack get along. Thanks!" Linda in California
"I took Robyn's Intuitive Communication class so I could better communicate with the land as part of my work. I had no idea there were so many ways to communicate! Experience is the best teacher and Robyn allows her class plenty of time to practice. If you want to expand your horizons and communicate with them I highly recommend taking Robyn's Intuitive Communication class!" — L. O. in Seattle
"As a trained intuitive, I took Robyn's intuitive communication class to see what I could learn in terms of communicating with animals and other non-human consciousness. Robyn has a down-to-earth approach, and she teaches with fascinating stories and interactive exercises. I was surprised to not only learn about intuition, but how to listen with humility. Through Robyn's stories of her communications with mountains and weather systems, I gained a sense of where we as humans fit in on this planet. I learned to see, hear, and feel past the surface of things I never gave a second thought to. The class opened my eyes to a different way of relating to the world, and for that I highly recommend it."—Diane in Seattle
"Robyn has an engaging way of drawing you into the moment, holding you there and helping you express what has just happened. My expectations were to know when I was receiving messages. Robyn's teaching prepares you for intuitive work and also managing the energy behind it. Come prepared for some fun and surprises." —Mary in Seattle
"That was very helpful! I enjoyed it." – Therese
Some Raves from My Writing Coaching and Publishing Life
For many years I worked as a writing coach, developmental editor, and publishing professional. I have mostly retired from that work (the occasional exciting project still lures me in), except for my own writing and publishing, and an upcoming e-book on structure (because the world needs our stories, and I know how to write them efficiently and well). However, years of recommendations for precise, professional, and complex work speak to my professionalism and ability to work in complex situations. Plus, the testimonials are cool!
"Robyn's superb editorial development skills were what helped me turn a first-draft manuscript into a final product that Publishers Weekly has called "delightful and insightful." She combines business savvy with intuition and is a pleasure to work with. Plus, she's a pleasantly persistent task master! I'm grateful to Robyn for helping get my book, 'Secrets of a Working Dog,' off the ground and into readers' hands." — Ellen Galvin, author, Secrets of a Working Dog
"I've been stumped more than once and Robyn has pulled me through. Her calm demeanor works well with my…uhm…more energetic personality. Best of all are her ideas; a needed new scene, an important plot point and an emotional set-up guaranteed to roll the tears…she's been responsible for them all. Manny tanks, Robyn. P.S. She doesn't check spelling."—Dave Tribble, novelist
"As an award-winning author herself Robyn knows writing. Yet unlike many who cannot teach what they do, she teaches a nuts-and-bolts method that demystifies the writing process. Whatever your level of talent and inspiration Robyn will show you how to get the most out of them and craft the most compelling stories you can. Writing can be hard work but she keeps the class fun!" — Norman Husser, novelist
"Robyn has helped me move two screenplays from rough draft to first draft and beyond. She identified the strengths and weaknesses of my stories, recommending what to build on and what to discard. Robyn is unafraid to tell it like it is, while always being constructive and encouraging along the way."—Paul Anderson, screenwriter
"Some time ago I decided to begin what turned out to be a new passion of mine: writing. At the time I had no knowledge whatsoever of the technical process of writing a novel or constructing a working storyline. Once I had committed myself to this venture I knew I'd need help…. Robyn was exactly what I was looking for, but more importantly, she knew exactly what I needed. Since that time she has done an analysis of my second novel and helped show so many ways I could improve it … not so much by criticizing my work, but by giving me little projects to do, easy research: great short books that were excellently written and fun to read followed by a small discussion on story construction. All I can tell you is this: every time I spend time with her discussing my writing I come away with more knowledge than I had … I don't think, I know it improves my ability to write better stories. I am so thankful that I made that call to Robyn. It's hard for me to ever imagine that I could have someone so willing to help, so insightful about what I needed, and so encouraging. Thank you, Robyn. You have helped me in so many ways. And by the way, I am going to be needing your help again soon."—Brian Sandwith
"The service you provide is outstanding. You gave me exactly what I asked for. That was, a clear path from where I was at with my project to a successful completion. As I go over your notes repeatedly it becomes clearer each time that your authority in this field is at the top of the league. Recently … going over your notes in the specific areas that I was working on beforehand resulted in what I felt was my best work." Brian McCallum
"The writing class truly sharpened my editing skills. Good storytelling requires a good story, but it also requires a right order, pace, and a certain economy of words. Particularly when writing, even more than talking, rambling will not do. Robyn's approach combines creativity with discipline—rare, in any field. Thanks, Robyn."—Paul Carr
Raves from Some Published Clients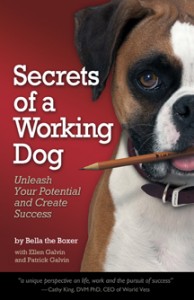 "Robyn provided the professional guidance and support that helped turn our book into a final product that we are very proud of. She is a clear communicator who works fast, sticks to her deadlines, and is pleasantly persistent when it comes to pushing a project towards the finish line. As for the production process, Robyn really knows her stuff and is a stickler for the details. All that—and she's a lot of fun to work with!"–Ellen Galvin, Co-author with Patrick Galvin and Bella the Boxer of Secrets of a Working Dog: Unleash Your Potential and Create Success
"Robyn was fantastic as not just an editor but also as a mentor who guided me through the book development process and provided great insight and ideas. She knows the book creation process from start to finish, from content creation and structuring content to layout and print. She took my original content and improved it 1000% with her counsel and editing process. I would highly recommend Robyn as the editor and coach of choice for any aspiring author."—James Mastan, author of Product Launch the Microsoft Way
"Robyn is a consummate professional. She's knowledgeable about all things publishing—including design and printing—and is an adept editor and a great writer herself. She's been a delight to work with—fun, compassionate, and concerned about my issues. She doctored my book with the wisdom and intuitive delicacy of a seasoned physician. Thanks, Robyn."—Jeff Skolnick, MD, PhD, author of Awaken Your Brain: Coming Alive to Vibrant Well-being and a New Reality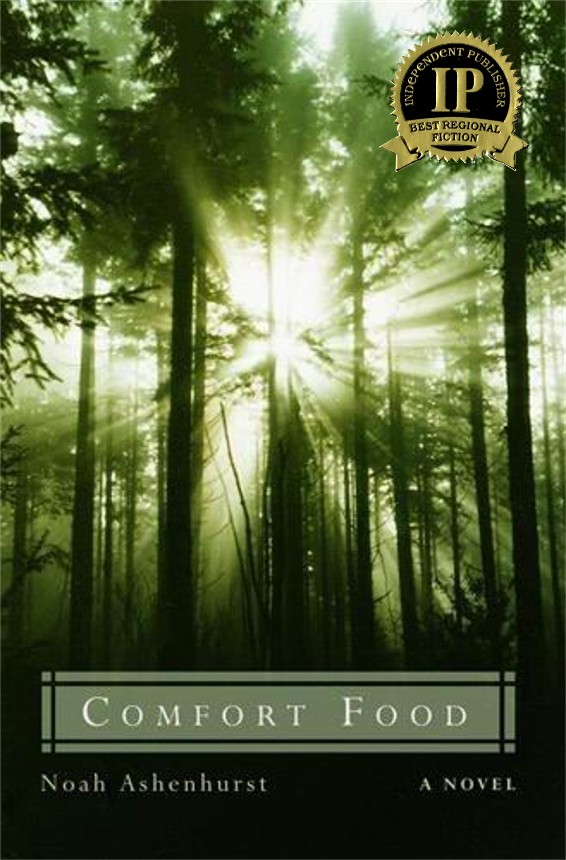 "It's important to work with an editor who is in your corner—an editor you can trust. Robyn is that kind of editor. I had the pleasure to work with Robyn, and she was indispensable in her editorial skills and professional comments. The clarity and independent style of Comfort Food: A Novel was greatly assisted by Robyn's attention to detail and understanding of style."—Noah Ashenhurst, author of Comfort Food: A Novel, winner, 2006 Independent Publisher Book Award, Best Regional Fiction, West–Pacific
"Robyn edited my memoir, My Blindy Girl. After her professional edit, my book flowed better. She cut wordiness without sacrificing the content, and caught disparities that I had missed. She was patient and thorough, while working within my budget constraints. If you have a book you need editing, I highly recommend her."—Ellen Tomaszewski, author of My Blindy Girl
My Own Books, and My Magazine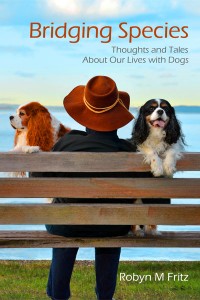 "Writing and publishing my own book was harder than I thought and I learned more than I planned on, but it was worth it. I'm at it again." Robyn M Fritz, author of Bridging Species: Thoughts and Tales About Our Lives with Dogs My book won the 2010 Merial Human-Animal Bond Award from the Dog Writers Association of America.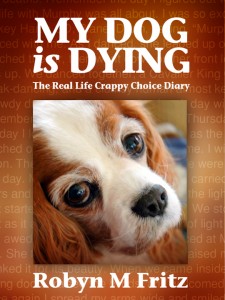 "The book I never expected to write: the story of my last journey with my beloved Murphy. And tips on surviving your own journey through grief with your animal family."
"What happens when they die? A chapter from my upcoming book on what our dead beloveds are up to, both human and animal."
 Bridging the Paradigms
My online magazine, the storytelling arm for Alchemy West. Full of true stories about exploring our intuitive lives, the human-animal bond, earth changes, evolving communities, and working with Fallon, the Citrine Lemurian Quartz.
© 2016 – 2018 Robyn M Fritz