Who I Am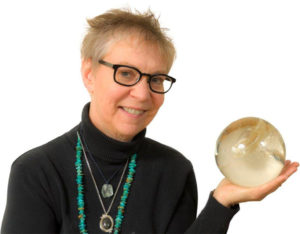 There are so many intuitives and healers out there it's hard to know who to work with. Here's why you might want to work with me.
I've learned a great deal from respected teachers who did what I am doing. Pioneers, mavericks, innovators, we took what we learned and changed it up to make a difference for our clients and the world.
My journey has been tough, a life of adversity, to say it politely. Over thirty years ago I was a newly minted MBA, a former journalist and publishing executive, ready to take on the world. Instead, I became handicapped. For over fifteen years I couldn't work at all. I lost everything—my health, career, financial security, purpose, and self-confidence—everything but my family and a few friends, my rebellious stubborn streak, and my quirky sense of humor.
Whenever I thought about giving up, I recommitted to creating a life of meaning and purpose, as long as it was fun.
That included buying a $175,000 dog (okay, a condo so I could buy a dog, but still), which was when everything changed. In the years that followed I learned what love meant (it's tough, no-nonsense, and the foundation of my life and work).
That's because after I bought the condo I did buy a dog, my first Cavalier King Charles spaniel, Murphy Brown. That dog was unusual right from the start, in October 1998. Yes, she had freaky street smarts and we shared serious, debilitating illnesses, but the clincher came on Feb. 28, 2001, when she saved us from the 6.8 Seattle earthquake minutes before it hit. Astounded, I realized I was living with a scientific breakthrough—a Cavalier early warning system (scientists can't tell us when an earthquake is coming, but my dog could, and did). Fascinated, I stared at her, exclaiming, "There's more going on in the world that I ever imagined, and I'm going to find out what it is."
So that's what I did. And still do today.
At first I put on my science-y hat, and when that didn't completely explain things, I put on an intuitive one as well. Yes, me, the rational, analytical skeptic.
What I discovered astounded me. The world that humans live in is so much smaller, so much "less" than the real world, that it's heartbreaking. It got that way because we believed our own myths about who and what we are, when the truth is so much greater. These myths keep us from being fully intuitive, completely spiritual, awesomely divine, wildly human.
We believe that we're caretakers and guardians of the world and that other beings are greater or lesser than us. The truth is, everything is alive, has a soul, consciousness, responsibility, free choice, and opinions. And everything is equal to us, from our animals to volcanoes, hurricanes to cars, spirit guides to the dead. Everything. I call this reality Planetary Connection. I learned it by being curious, open, and accessible to the world as it really is. When you do that, the world comes calling. Literally.
Sure, it took some getting used to. I started with animal communication in 2001, talking to Murphy, my earthquake-detecting Cavalier. I was content with that, even after adding another dog, Alki, and Grace the Cat, but in 2004 something strange happened: I began having conversations with cars, houses, hurricanes, volcanoes, and other beings I had no idea could, or would, talk with us (and come on, neither did you).
It was fun, hilarious, deeply moving, and, frankly, disturbing, because my experiences were … unique. A talking car who insisted it was mine, and prompted me to send three dealers on a five-state search for it? (Yes, I found it, and it is still the family car.) A rumbling volcano with a strong desire to show off by erupting? (We talked, and Mount St. Helens changed her mind.)
With a true scientist's heart, I naturally assumed I might be insane or have a brain tumor (or both), so I decided to be rational about it and ask my neurologist, who was treating me for chronic migraines. He heard me out, then astonished me by asking me how my experiences were any different than talking with animals, which he knew I did.
"You don't think that's different?" I asked.
"I think you're normal. For you," he replied, grinning.
With that pronouncement I was suddenly free to get on with it, whatever "it" was. That turned out to be who I am today. Someone with the personal and professional experience to help you.
Because I know what it's like:
I struggled like you are struggling, for meaning, which is why I opened a spiritual consulting practice.
I needed and yearned for intuitive insight, which is why I opened an intuitive consulting practice.
But especially because I discovered what was missing:
I didn't love myself enough. Sadly, most of us don't.
Here's the deal. I know how good and how very bad the world can be, because I'm bright, talented, and handicapped. Because I'm a fighter, not a quitter, although sometimes that would be easier. Because I'm excruciatingly honest, sometimes naïve, and always a visionary pioneer who knows from hard experience that the one thing that matters in the world is love—the tough, no-nonsense, exhausting love that can, and will, change the world (because ultimately the world will insist upon it).
Love is the foundation of everything I do. Because love is everything. Whether we're looking for intuitive or spiritual insight, it starts there.
Helping People Find Their Way to Love
Meet the Practical Intuitive: My Webinar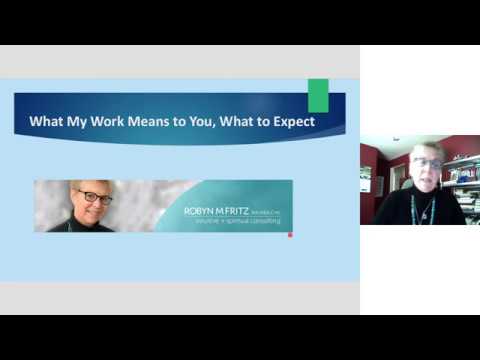 Love is why I do what I do, no matter what. It's why my work matters to me. And to you.
Love isn't easy. It took me years, and much trial and error, before I followed love to find my true family and my life's work. I don't want anyone else to suffer that much, to take the long hard road to their life's purpose when I can help them do it faster. Easier. (It's hard, but it doesn't have to take forever.)
We humans participate in a fascinating world when we claim the power of love and choice in our lives. I know, because I did it. My work is true, real, fascinating, deeply moving, and far different than I ever imagined it would be. I am grateful.
I work to help make love accessible to everyone I work with, because we all have something wonderful to do in the world. Starting with loving ourselves.
Every service I offer has love as its central theme. I help you let love create balance, clarity, and transformation in your life. Because you matter. Yes, you.
My Completely Serious (Dry and SEO-worthy) Bio
An alchemist, or transformation specialist, Robyn M Fritz MA MBA CHt is an intuitive and spiritual consultant. At her firm Alchemy West in Seattle, Washington, she combines over 30 years of creative business experience with practical, intuitive insight and spiritual consulting to help emotional healthy conscious adults get an edge in their personal and business lives.
A certified hypnotherapist, shamanic practitioner, and energy healer, she offers soul regression hypnotherapy (past life regression, between life regression, and spiritual counseling), and shamanic services, including soul retrieval, soul purpose, curse unraveling and compassionate de-possession (shamanic takes on soul regression and energy blockages).
A certified Reiki III practitioner, she works with alchemical energy, a new form of the ancient DNA of the universe that arrived in her family in 2007 and with crystals, including the ancient power crystal, Fallon, the Citrine Lemurian Quartz. She offers home and business blessings and rituals to support everything from seasonal changes to births, anniversaries, graduation, divorce, and death.
Robyn has worked as an intuitive for over 15 years offering mediumship, animal communication, personal and business intuitive consulting, and space clearing.
As a pet psychic, she supports the human-animal bond and multi-species families by consulting on health, behavior, lost animals, and dying and death.
As a psychic medium she connects with deceased people and animals for closure and healing in a unique way—by working with her deceased father, Ray, who runs a Way Station for Dead Things on the Other Side. As an intuitive she helps individuals and professionals create powerful, productive lives in tune with intuition.
As a space clearing expert she uses her pioneering form of space clearing, called Space Cooperating, in homes, businesses, and real estate to support healthy change and to resolve trauma, from ghosts and the paranormal to health and business issues. This method works by directly consulting with the space to be cleared to determine its needs and wants and to mesh them with human ones.
Robyn teaches workshops and gives talks on intuition and mindset around the Pacific Northwest, including Bastyr University, a leading naturopathic university.
She hosts the popular radio show, The Practical Intuitive: Mind Body Spirit for the Real World, at OMTimes Media and is an OMTimes Expert.
Robyn has been a radio show guest and a guest blogger and columnist. She also blogs and offers online workshops at the Wellness Universe. She earned an MA and BA at Seattle University and an MBA from The Ross School of Business at The University of Michigan. She also is a certified hypnotherapist licensed in the state of Washington.
For over 20 years Robyn also developed book projects as a creative coach and publishing professional. An award-winning author of three books on the human-animal bond, Robyn blogs about intuition and culture at her blog, Bridging the Paradigms.
Her books include:
Bridging Species: Thoughts and Tales About Our Lives with Dogs won the prestigious Merial Human-Animal Bond Award in 2010 for the writing that best exemplifies the human-animal bond—the bond between people and dogs. This small gift book explores new ways of thinking about the human-animal bond—one challenging idea, one leap of love, one good joke at a time.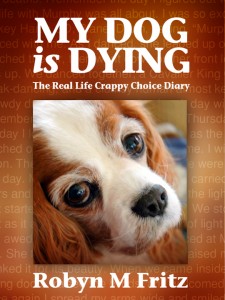 The second book is one she never thought she'd write. My Dog Is Dying: The Real Life Crappy Choice Diary follows her family's journey in the winter of 2012 as their beloved Murphy died from splenic cancer, a disease linked to early spay/neuter. It also offers tips on how the human-animal bond meets, and survives, death, and a call to action to re-think the barbaric practices we consider humane, like over-vaccination and early spay/neuter.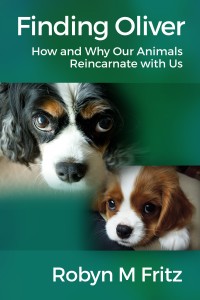 Her third book is a an e-book, a chapter from her upcoming self-help book on how we can claim our best lives, and afterlives.  Finding Oliver: How and Why Our Animals Reincarnate with Us reveals how her animals keep reincarnating with her, including Oliver the Cavalier, and how soul purpose and the human-animal bond work in our families.
From Robyn: a Personal Note!
Life is fun. Work is fun. I love them both. I would love to meet and work with you.
Oh, in case you're wondering, I do something besides work all the time.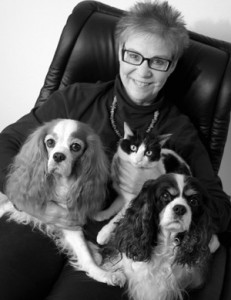 In this picture you'll see my beloved family several years before, well, death struck. Murphy is the Blenheim Cavalier (red and white), Alki is the tricolor Cavalier, and Grace the Cat is, well, the cat (she was the dogs' idea). Murphy died in 2012 of hemangiosarcoma, Alki died horribly and too soon in 2014, and Grace the Cat was going into her senior years wondering why there was a puppy in the house (and petting him when she thought I wasn't looking) when she surprised herself, and me, by suffering a massive stroke and dying quietly in my arms in September 2016.
Things changed. As of October 2015, the new kids arrived. The puppy Grace the Cat occasionally petted would be Oliver, the Blenheim puppy who is tricolor Alki reincarnated (memories intact). You might even be able to see it for yourself by looking in my dogs' eyes in that cover for Finding Oliver: you can see that same soul looking back at you. See, what I do is real.
In May 2017 a new cat arrived: the kitten Kerys, a Russian Blue. After insisting she wasn't coming back, but would instead mentor a boy kitten to work with me, Grace the Cat surprised me by popping into a new body. She and Oliver became best friends in about 20 seconds. The joys of reincarnation! (My dad says it isn't the universe looking out for us, it's our ancestors, and, in my case, my DAD and my persnickety animals!)
I live (and love) with Ollie and Kerys (reincarnation is real) in a nature-filled neighborhood on Puget Sound in Seattle, Washington. Yes, with whales, sea lions, seals, dolphins, and things like that out there, and, on land, coyotes, river otters, possums, foxes, bald eagles, osprey, and even humans and cats and dogs.
It's as wild as you can get and still be near a grocery store. See, I have my priorities straight. Love. Eat. Live. Come back and do it again.
© 2016 – 2018 Robyn M Fritz